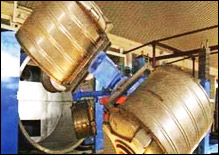 What is Rotomoulding Machine?

Rotomoulding machines are probably the most cost effective machines for producing different types of large and hollow plastic products by employing various rotomoulding techniques. It yields seamless parts that boost uniform wall thickness and deposition of more materials in the corners for excellent shock absorbing. Compared to other molding procedures, the finished parts are relatively stronger as the raw materials are not subjected to stress during the entire production process, which comprises of heating, loading, cooling and unloading. In addition, Rotomoulded products often provide a lightweight replacement for more traditional materials. The molds used in the process are significantly cheaper than any other types and very little material is wasted using this process. The excess material can always be re-used.

Products Made by Rotomoulding Machines?

One of the extremely versatile and widely used plastic manufacturing techniques is rotomoulding technology. The rotomoulding technology is most suitable for developing seamless, light weight and stress free roto molded plastic products. Owing to its unmatched versatility, it gives wide options in terms of experimenting with the shape, size, finishes and surface textures. The machines used in such plastic manufacturing process are called rotomoulding machinery. A wide range of plastic and pvc products are made by rotomoulding machines such as water tanks, plastic drums, storage containers, homeware, kitchenware, road barriers and other traffic control products, pipes, kids rockers products and many more products.

Machines Used in Rotomoulding Process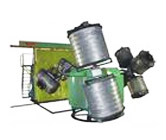 Generally, the machines employed in rotomolding process can be segregated into five major types : clamshell, independent cart, rock-'n'-roll, shuttle, and turret. These avant-garde machines are generally equipped with environment friendly burners which are suitable for LPG, CNG, OIL duel fuels. They are also fabricated with heat panels outfitted with advance heat transfer technology which facilitate an uniform heating that results in smooth, seam less end products with well defined outlines. Rotomoulding machine is also called as rotational moulding machine, plastic water tank making machine, and shuttle machine.

One of the most common features of all these machines is the arm. Rotomolding machines may use a single arm or may have three or four arms. The arm basically functions to rotate the molds on both axes in order to disperse the resin evenly and consistently along the mold surfaces and to move the molds into one of the three stations of the machine--the oven, the cooling chamber, or the product loading and unloading station. With the advent of newer technologies the whole get up of these were revolutionized. The latest generation of equipment features on board computers and visual displays that control the arm rotation sequence, cycle time, oven temperature, and the internal and external cooling apparatus for the molds automaticaly.

Technology Development in Rotomoulding Machines

With the development of technology, the whole process of rotomolding has metamorphosed from being just a falsifiable process, relying on both trial and error and the experience of the operator, to a highly technological evolution where even the air temperature in the mold could be monitored. Much of the theoretical assumptions and hypotheses has been replaced by precise technological conformity based on microprocessors. The latest generation of equipment features on board computers and visual displays that control the arm rotation sequence, cycle time, oven temperature and the internal and external cooling apparatus for the molds automatically.

Understanding Rotomoulding Machinery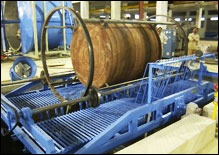 Rotomoulding is one of the types of plastic molding techniques. Different types of rotomolding machines are manufactured using various body parts, depending on the function they are supposed to carry out. Yet, all rotomolding machines comprise three basic parts that are:
Oven
Cooling chamber
Product Loading and Unloading Section

The rotomoulding machines follow different processes & sub processes in order to fabricate various types of hollow molded plastic products or plastic moulds. For conducting different processes, there are large variety of rotational moulding machines available in the market. Though, different types of machines carry out varied job works, all of these can be broadly categorized into the following:
Clamshell
Rock-'n'-roll
Independent cart
Shuttle
Turret.
Hi-tech Rotomoulding Machinery is outfitted with environment friendly burners that are suitable for CNG, LPG, Oil duel fuels. The machines are fabricated with quality heat panel backed by advance heat transfer technology which facilitates uniform heating, further resulting in seamless and smooth end products with well-defined outlines. There are usually one or more arms in Rotomoulding machines. The arms can be rotated along the vertical and horizontal axis. Also, these arms are fitted into the machines for regulating movement of the molds.

Types of Rotomoulding Machines

Allthough there are different types of rotomoulding machines, but listed below are commonly used rotomoulding machines:
Rotational Moulding Machines
Moving Oven Type Rotational Moulding Machine
Oven Rotomoulding Machine
Bi-Axial Rotomoulding Machine
Vertical or Up & Over Rotational Machine
Rock n Roll Rotomoulding Machine
Three Arm Fixed Turret Fixed Oven
Shuttle or Swing Arm Machine
Carousel Rotomoulding Machine
Advantages of Rotomoulding Machines

Although rotomoulding machines are little bit costly but they are worth for this cost. Rotomoulding machinery are not only automated, eco friendly, safe to operate, designed to deliver high output but are also equipped with many safety features. The products made from rotomoulding machines are proper in shape, size and finishing. Plastic products manufactured by these machines can also be customized for any shape, size and designs. Thus rotomoulding machines are better in every way than other means of methods of producing plastic products.


Types of Rotomoulding Accessories and Equipments

Apart from various kinds of rotomoulding machines there are also some other types of accessories which assist rotomoulding process directly or indirectly. Some of them are listed below:
Boom Crane
Mixer
Table Saw
Grinder
Cutter
Extruder
Blender
Pulverizers
Granulators
Auxiliary Equipments Used in Rotomoulding Process
Extruder Machine
Scrap Grinder Machine
Vibro Machine
High Speed Mixer Machine
Vibro Screen
Where to Buy Rotomoulding Machines From?

There are numerous rotomoulding machine manufacturers, suppliers and exporters, offering varied types of rotomoulding machines widely used in undertaking rotomoulding process for plastic and fabrics. Below mentioned are some of the commonly used Rotomoulding machines.

We also manufacture, supply and export all types of rotomoulding machines and other tools & equipments used in rotomoulding process. Contact us for any query regarding any types of rotomoulding machines and equipments.