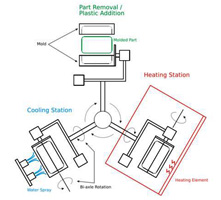 Rotomolding(also known as rotational molding) is a latest plastic molding technique/ technology that is used for fabricating hollow items (mostly of plastic), such as toys, tanks, medical products, leisure craft, and other types of roto molded plastic products. This technique is preferable over other molding techniques due to its low level of residual stresses as well as inexpensive molds. Rotomoulding process includes molding of plastic resins, using a rotating mold hanging against two perpendicular axis. The rotational molding process, which consists of high-temperature, low-pressure plastic-forming process that uses heat and biaxial rotation to produce hollow, one-piece parts.

The basic fact of the process point to its long cycle times only one or two cycles an hour can typically occur, as compared to other processes such as injection molding, where parts can be made in a few seconds. But the rotomolding process do contain other special and distinct advantages which are not available with other plastic molding techniques.




The Rotomoulding Process Involves Following Steps:
After processing a measured quantity of polymer (usually in powder form) into the mold, the first and the foremost step in rotomoulding is heating the mold in an oven while it rotates, until all the polymer has melted and adhered to the mold wall. Then the hollow part should be rotated through two or more axes, rotating at different speeds, in order to avoid the continuous addition of polymer powder. The length of time the mold spends in the oven is highly critical: too long and the polymer will degrade, reducing impact strength.
If the mold spends too little time in the oven, the polymer melt may be incomplete. The polymer grains will not have time to fully melt and to blend on the mold wall, which results in large bubbles in the polymer. This has an reluctant effect on the mechanical properties of the finished product.
After this comes cooling stage which can be quite lengthy and can consume more time. Post the heating session, the molds are left for cooling while the rotation is still on. These molds are cooled by sprinkling water on it or simply by passing air on them.
In the last stage the molded plastic products are removed from the molds with the help of some releasing agents.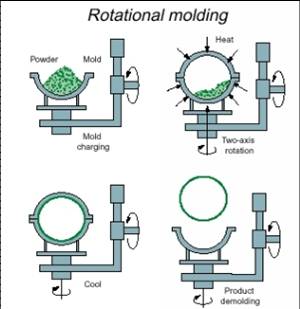 Advantages of Rotomolding:
Rotomoulding is cheaper than blow molding and injection molding techniques to produce low quantity of products but not suitable to produce products in large quantity.
Rotomoulding provide even and uniform wall thickness of the products even at corners.
Products can be customized with this process.
Desired logo, designs, prints can be also be made on these products.
By this process multilayer products can be produced. Moulds can be changed quickly on the machine.
It is also easy to change color of the products.
Products of large wall thickness can be produced by this process.

Materials Used in Rotomolding Process:

The resins commonly used in rotomoulding process for manufacturing different types of roto molded plastic products are polyethylene, plastisols, polycarbonate, polyvinyl chloride, polyamide, acetate butyrate, elastomers, polypropylene, polyurethane, nylon, ethylene vinyl acetate & fluorocarbons.


Types of Machines used in Rotomolding:

There are different types of rotomoulding machines which are used in rotomolding process but commonly bi-axial rotomolding machines and shuttle rotomolding machines are used for producing plastic tanks and other roto molded products.


Rotomolding Products:

The most common products manufactured by rotomolding process with the help of rotomolding machines are hollow plastic products, plastic water tanks, water bottles, drums, plastic containers, plastic boxes, road barriers, traffic sign boards, road divider, traffic cones, rowing boats, and other roto molded plastic products.


Other Facts and FAQs About Rotomolding:


Q. What is Rotomoulding?
A. Rotomoulding is process through which a varieties of hollow plastic products are manufactured. Products manufactured by this technology are strong, durable and with good finishing.

Q. What is the Difference between Molding and Rotomoulding?
A. Molding is the technology through which different types of plastic products are made. There are lots of molding techniques through which plastic goods are made. Rotomoulding is one of those molding techniques.

Q. What is Difference Between Rotomoulding and Rotational Moulding Process?
A. There is no difference, both are same.

Q. What Maximum Temperatures can Rotomolded Products Withstand?
A. Roto molded products can withstand temperatures of 60 degree to 120 degree celcius.

Q. Why Rotomouldig is Better than Blow Molding Technique?
A. Unlike blow molding process the rotomoudling process use less pressure while manufacturing plastic products, that is why roto molded plastic tanks and other products have no seams, joints, built-in stress thus are more durable. Apart from this roto molded products are also more resistant to heat, abrasion, weather conditions, liquids and chemicals.

Q. What Maximum Length a Rotomolded Product can be made of?
A. Upto 4.5 meter or 15 feet long products can be manufactured by bi-axial rotomoulding technique.

Q. Why Rotomoulding is Eco-Friendly than other Plastic Molding Techniques?
A. Rotomoulding produces minimal waste, and that too can be recyled to produce new products. Polyethylene is the mostly used material in rotomoulding which is also eco friendly upto an extent.

Q. What Maximum Wall Thickness of the Products Can be Achieved by this Process?
A. Through this process the products can be made with maximum wall thickness of upto 25 mm.

Q. What is the Maximum Capacity of the Products?
A. Products with capacity of 0.5 liter to 40000 liter can be manufactured by this process.

Q. How long Roto Molded Products can last?
A. Rotomolded products can last upto 40 to 50 years.

Q. What Certifications and Accreditations Should a Rotomoulder Has?
A. A rotomoulder should be a ISO 9001 certified and member of Association of Rotomoulders(ARM).

Q. What Plastic Products/ Raw Materials are Used in Rotomoulding?
A. Linear polyethylene, Crosslinked Polyethylene (XLPE), Ultra Low Density Polyethylene (ULDPE), Polypropylene (PP), Nylon (PA), Fluoropolymers – Poly Vinyl Difluoride (PVDF), Ethylene Chlorotrifluoroethylene ECTFE, etc. For extremely high chemical, heat and mechanical resistance properties Fluoropolymers – Poly Vinyl Difluoride (PVDF), Ethylene Chlorotrifluoroethylene ECTFE are used for making products. These are 30 to 60 times the price of polyethylene.

Q. How Many Products can be Made From one Mould?
A. It depends on the quality of the moulds and their maintenance. Normally upto 1 lakh products can be made using one mould. For example aluminum moulds require maintenance and replacement earlier than the steel ones.

Q. When Rotomolding Process Originated?
A. Although rotomolding/rotationl molding is said to be originated in or around 1850. But in initial stage this process was used for producing products from metal, wax and chocolate. The first use of rotomolding process for producing plastic products took place in 1950. And the Association of Rotational Moulders (ARM) was established in Chicago in 1976 as global trade association for rotomoulding.