Home > Rotomoulding Machines > Three Arm Fixe Turret Fixed Oven
Three Arm Fixed Turret Fixed Oven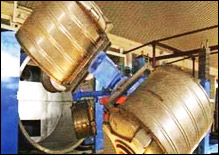 The three arm fixed turret fixed oven is a machine used in the process of rotational molding to produce large hollow plastic parts. These avant-garde machines are generally equipped with environment friendly burners which are suitable for LPG, CNG, OIL duel fuels. The heat panels of these machines are outfitted with advance heat transfer technology which facilitate an uniform heating that results in smooth, seam less end products with well defined outlines.

The process

The three arm fixed turret fixed oven is generally used for manufacturing large/small hollow plastic articles. The most commonly used raw materials are High density polyethylene (HDPE ) and Low density polyethylene (LDPE). The powdered polymers are poured into the mold, which is connected to the end of an "arm" of the fixed turret fixed oven. These arms, powered by powerful motors, start to rotate biaxially in a temperature range of 200-300'C. The powder inside the mold begins to melt and flow on the inner walls of the mold. After the molten material is evenly distributed, the mold is allowed to cool to let the thermoplastic solidify. As the material solidifies, it shrinks thereby de-attach itself from the inner walls of the mold.

Salient features of the Three Arm Fixed Turret Fixed Oven
These machines are specifically designed for the space saving chambers with advance heat transfer technology.
Avant-garde insulation panels for better and safe working environment.
Straight-arm with four mold carrying carrier plates for economical working.
Presence of necessary interlocking, safety devices with indicators and alarm.
The control panel of the machines are equipped with microprocess based digital display.
Variable speed a/c motors are for major and minor speed controls.
Mold indexing facility.
Environment friendly burners suitable for LPG/CNG/OIL/Duel fuels.
Commercially available models
Fix oven with Turret Machines having 3 arm/4 arm.
Fix oven with Independent 3 arm/4 arm with 4 stations/5 stations.
Fix oven with moving carriage shuttle type machine.