Home > Rotomoulding Machines > Rotational Moulding Machines
Rotational Moulding Machines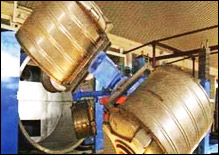 Rotational moulding(also known as rotomoulding) is probably the most cost effective way of producing large and hollow plastic parts. It yields seamless parts that boost uniform wall thickness and deposition of more materials in the corners for excellent shock absorbing. Compared to other molding procedures, the finished parts are relatively stronger as the raw materials are not subjected to stress during the entire production process, which comprises of heating, loading, cooling and unloading. In addition, Rotomoulded products often provide a lightweight replacement for more traditional materials. The molds used in the process are significantly cheaper than any other types and very little material is wasted using this process. The excess material can always be re-used.

Generally, the machines employed in the process of rotomolding can be segregated into five major types : clamshell, independent cart, rock-'n'-roll, shuttle, and turret. These avant-garde machines are generally equipped with environment friendly burners which are suitable for LPG, CNG, OIL duel fuels. They are also fabricated with heat panels outfitted with advance heat transfer technology which facilitate an uniform heating that results in smooth, seam less end products with well defined outlines.

One of the most common features of all these machines is the arm. Rotomolding machines may use a single arm or may have three or four arms. The arm basically functions to rotate the molds on both axes in order to disperse the resin evenly and consistently along the mold surfaces and to move the molds into one of the three stations of the machine--the oven, the cooling chamber, or the product loading and unloading station. With the advent of newer technologies the whole get up of these were revolutionized. The latest generation of equipment features on board computers and visual displays that control the arm rotation sequence, cycle time, oven temperature, and the internal and external cooling apparatus for the molds automaticaly.