Home > Rotomoulding Machines > Oven Rotomoulding Machine
Oven Rotomoulding Machine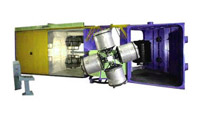 Normally all rotation molding systems have a number of parts including molds, oven, cooling chamber and mold spindles. The molds are used to create the part, and are typically made of aluminum. The quality and finish of the product is directly related to the quality of the mold being used. The oven is used to heat the part while also rotating the part to form the part desired. The oven rotomoulding machine also highly adopted moulding machine in the market. This moulding machine consist of many dynamic features in it. They are:

Variable speed a/c motors are for major and minor speed controls.

In this versatile machine there are various speed a/c motors which helps in controlling the major and minor speed of the components. For the accuracy in the product process speed a/c motors plays a very vital role.

Mould indexing facility.

That means in this moulding machine manufacturer have the better option for mould indexing. Mould indexing is a procedure where the adjustment of all the proportion and its performance matches that of an index. This is the special property of the machine for the better output results

Well equipped interlocking, safety devices with indicators and alarm.

All the machine control components are highly equipped with interlocking and safety system so to avoid any mishap, as well as all the components are connected under timely indicators and alarm for the positive output of the product.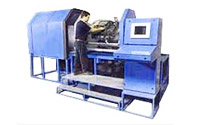 Environment friendly burners suitable for LPG/CNG/OIL/Duel fuels.
The burners which are used in Oven moulding machine are very eco friendly. While in the process burners do not produce any poisons gas or any other harmful gas which is the positive sign of the oven moulding machine.

Microprocessor based machine control panel with digital display.
As mention before due advancement and modernization in the technology all the machine control panel available in the oven moulding machine is highly digital. Due to this accuracy and quality output by this oven moulding machine created its own positive identity and demand in the market.

Oven type rotomoulding machines consists of various other machine models in the market. They are:
Moving oven with Turret Machines having Three Arm/4Arm.
Moving oven with Independent 3 Arm /4 Arm with 4 Stations/5 Stations.