Home > Rotomoulding Accessories > Extruders
Plastic Extruder Machine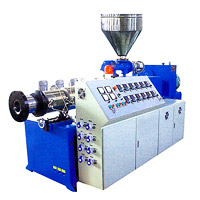 Extruders are simple machines that are employed to produce long continuous plastic products which can be cut according to desired length later on, hence they are highly demanded in rotomoulding industries worldwide. These plastic extruder machines operate by pulling out the material through a shaped die to form a continuous length of product with a preset cross section. The process of extrusion is extensively used to manufacture an impressive range of products like tire treads steel or copper wire, plastic tubing, plastic sheets, and many food types. One of the most important features of the plastic extrusion process is that it has the ability to form brittle materials.

A very simple example of an plastic extrusion machine is the baker's pipe where the bag is filled with icing and the opening is fitted with a decorative nozzle. When pressure is applied on the bag or simply pressed, the icing comes out as a continuous length with the same cross section as the shape of the nozzle opening.

Types

Extruder machines can be categorized into three major types :
Single Screw
Twin or Multiple Screw
Ram Type.
Constituents

A typical plastic extrusion machine consists of a tubular barrel, usually electrically heated; a revolving screw, ram or plunger within the barrel; a hopper at one end from which the material to be extruded is fed to the screw, ram or plunger; and a die at the opposite end for shaping the extruded mass.

Applications of Plastic Extruder Machines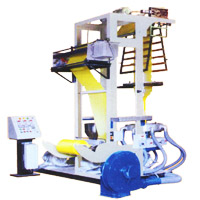 Industrially, these machines are employed in rotomoulding industries to extrude plastic to process food packaging film, cladding sheets, insulation, automotive parts, and tubing products such as electrical conduit and plumbing pipes. Steel and alloys are extruded to form rods, pipes, and wires as well as steel conduits and construction members for light engineering. The food and pharmaceutical industries also make extensive use of extrusions in the production of products such as pasta, cereals, cookies, and several drug carriers.

A few important characteristics of most plastic extruder machines are :

Low power consumption with high output
Easy to handle and operate
Minimum requirement of manpower.