Home > Standard Set-up
Standard Set Up

Rotational molding, or rotomolding, is possibly the best process of thermoplastic molding, ideal for manufacturing large hollow plastic parts. It is very cost effective and produces smooth and seamless products with uniform wall thickness better shock absorbing properties. As the raw materials are not stressed during the production process the parts so produced are relatively stronger and more flexible. There are many manufacturers in the market, who provide the rotomoulding machinery and equipment in standard setup matching ISI, IEC, ISO and other global standards. However, few of the flexible ones can even provide you the customized options for these tooling & equipment. Hence, depending on your rotomolding requirements, you can choose any established manufacturer offering standard / customized machinery.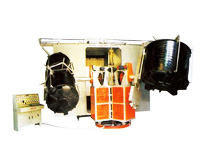 Cost Efficient Moulds – Key Benefit of Standard Rotomoulding Machinery

One of the biggest advantage of rotomolding is that the tools employed are significantly cheaper compared to on comparison to injection and blow molding. Even the tools are generally produced by extremely cost effective processes like molding, casting fabricated from welded sheet steel.

There are different types of rotomoulding machines employed in the process of rotomolding that vary in size, efficiency and specialty. Normally, all rotomolding systems consist of the following parts/components :
Molds
An oven
A cooling chamber
Mold Spindles
Molds

The molds are the most important part of the whole system as the quality of the finished products are directly proportional to the quality of molds used. Molds used in rotomolding systems are generally made from welded sheet steel or casted from stainless steel or aluminum. Aluminum being a softer metal makes thicker molds as compared to equivalent steel molds. But this does not hamper the cycle time of the process or the finished products as the thermal conductivity of aluminum is much much greater than steel. However, some molds contain both aluminum and steel.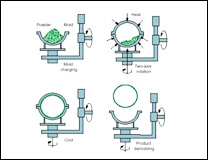 An Oven

A high performance oven is an integral part of all rotomolding systems. It used to heat the mold while the mold keeps rotating. This ensures that the raw materials melt properly and are evenly distributed on the inner surface of the mold.

A Cooling Chamber

After the molds are heated, they are transferred to the cooling chamber to solidify and attain shape. Most cooling chambers use fans and air jets to cool the heated molds.

Mold Spindles

The mold spindles are generally found attached onto the rotating axes. These spindles help to attain a uniform coating of the thermoplastic inside each mold.