Home > Plastic Auxiliary Equipment > Water Temperature Controllers
Water Temperature Control Systems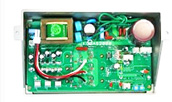 The purpose of water temperature controllers is to provide complete system & modular component solution so as to control mixed water temperature. A water temperature control unit circulates through process application to control the temperature. These are usually used for the application in which the temperature ranges from 30 Degrees to 300 Degrees Fahrenheit. The Water Temperature Controllers(also known as water termperature control units, water termperature control system, water termperature control machines) are installed with a pump that helps in circulating water through the process.

Also, there is a heater and cooling valve working together to take care of the water temperature. Some water units also come in portable design, and thus require a plant water supply source. These controllers are offered in the market with different types of control instruments, cooling valves, heater sizes, and physical packages. There are number of manufacturers and exporter in India, engaged in offering well engineered Water Temperature Controller with the requisite accessories or installations such as:

High capacity centrifugal pumps
Process Pressure Gauges
Microprocessor controllers
Stainless steel cabinetry
Modulating or Solenoid cooling valves and the likes.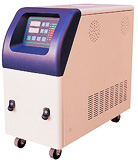 The function of a water temperature control unit is to preheat a process upto the desired/necessary temperature, using the electric immersion heater of the unit and by recirculating water in the system. To suit the industrial environment, these units should be engineered for heavy duty operations and have microprocessor control. A "Straight Line" temperature control system is also there in such controllers. Further, the units should be portable in order to ensure that it can be easily moved between applications of water temperature controllers. There is a wide scope for customization in water temperature control units, depending on the client requirement of the desired process. The customization can be done for the following:
Closed Circuit Kits
300°F Instrument
Bronze Pumps
Mold Purge
Audible & Visual Alarm Packages
Contact us for buying or more information on different types of water termperature controller, water termperature control units, water termperature control system, water termperature control machines and equipments.