Home > Plastic Auxiliary Equipment > Vacuum Pumps
Vacuum Pumps

Vacuum Pumps destroy various gas molecules from sealed volume leaving behind a partial vacuum. These machinery are utilized in Vaccum Pumps Molding processes. The heated resins are enforced though plastic molding machinery during the processes. The material is pulled by these pumps through the machines with vacuum in the hot oil units.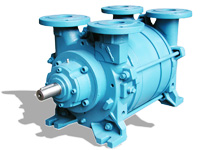 It is possible to amalgamate chambers and operational procedures with vacuum pumps to achieve a wide range of vacuum systems. They can even be linked together in series or parallel in a single application. There are other combinations depending on the level of vacuum being sought.

Although vacuum pumps rate among the most commonly used industrial equipment and are commercially available in a wide range of sizes, shapes and complexity levels they can be broadly categorized according to three techniques:

Positive displacement Pumps: The Positive Displacement Pumps expand the cavity by allowing gases to flow from the chambers. During this process the cavity is sealed off and exhausted to the surrounding. Reliable Positive Displacement Pumps are most efficient for low vacuums.

Momentum transfer Pumps: The Momentum transfer Pumps, also known as molecular pumps are a kind of Vacuum Pumps. These pumps use high speed jets of thick fluid as well as rotating blades to blow the gas molecules out.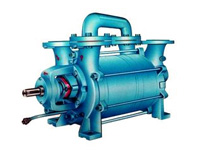 Entrapment Pumps: The Entrapment Pumps arrest gases in adsorbed as well as solid state. There are various types of commercially available Entrapment Pumps are Ion, cryopumps, getters, etc.

Moreover, the vacuum pumps are manufactured in various specifications like sealing material, tolerance, service intervals, pressure, reliability, tolerance, to chemicals, dust, liquids as well as vibration. Modern Vacuum Pumps are widely known for rust resistance, low maintenance cost, long functional life, strong corrosion resistance, compact design; thus save installation space, mechanical sealing for more reliability, environment friendly operation, and many more.

We manufacture and supply different kinds of vacuum pumps. Contact us to buy or for more information on vacuum pumps.