Home > Plastic Auxiliary Equipment > Silicone Dispenser
Silicone Dispensing Machinery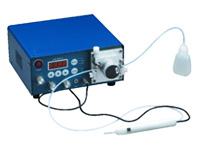 Silicone Dispensing Machinery are basically dispensing guns, which are utilized for sealing, adhesion, and gumming purposes. The operation process of these machinery resembles pumps. These are triggered to result silicone and are renowned for remove work loss from input till the discharge of the products.

Why Silicone Dispenser?

Silicone is the favored most substance in molding processes because it is ergonomic, attractive, tear resistant, compression set resistant, chemically inert, and odorless. Further more, this transparent adhesive are available in high/low temperature grades and can be molded into a variety of shapes with fine features.

Components of a Silicone Dispenser:

A typical silicone dispenser machine consists of the following few components:


Silicone Dispenser Foot switches
One pressure gauge
Control box
A valve stand
Timer
A Mini dispensing valve
Regulator
A pressure reservoir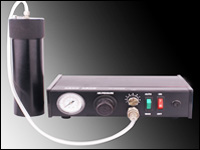 Salient Features of a Silicone Dispenser:
Large solenoid air exhaust to interrupt the flow quickly through the fast-evacuating technology.
Sensitive solenoid valve
Analogue timer with a knob to arrive dosing require
Manual or self timer modes
Precise dispensing of adhesives or other material with viscosities ranging from liquid to paste.
Less known facts about Silicone Dispensing Machinery:
The vast industrial usages of Silicone Dispensing Machinery lies in industries of cabinets/electrical panel, auto parts, electronics, lighting, battery, and filter.
The glue strip dispensed by this machine ensure high quality sealing. Also these strips are known for waterproof, dustproof, shock absorption, and anti-seismic nature.
The Beckhoff system of this machine work as a remote monitor.
The normal weight mixing ratio error of the two material is ± 0.3%.
The processing speed of the machine rely on requirements of the processes.
Most of the modern Silicon Dispensing Machinery are compatible with project memory as well as CAD software.
Excellent automatic engineering ensure high speed, convenient as well as efficient sealing works and these can be carried out in a single step.
We manufacture, supply and export all types of silicone dispensing machinery. Contact us to buy silicone dispensing machines or for more information on different types of silicone dispensers.