Home > Plastic Auxiliary Equipment > Screen Printing
Screen Printing Machinery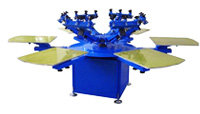 Screen Printing Machinery ensure modern as well as versatile printing. These machinery are widely used in the molding industry to print and color the plastic molds. It develops the appeals, look, packaging or display utility of finished products. These are the secrets behind the popularity of Screen Printing Machinery. This range of machinery has the capability of printing on the surface of any shapes, thickness as well as sizes.

So what exactly is Screen Printing?

Basically, Screen Printing is a kind of printing process, which involves a woven mesh to aid an ink blocking stencil. Through this process the design is enforced on a screen of silk or other fine mesh, with blank areas, which are coated with an impermeable substance, and ink is forced through the mesh onto the printing surface.

Screen printing consists of three chief elements : the screen, which is the image carrier; the squeegee; and the ink used. The The mesh is made of porous fabric or stainless steel and the stencil, that defines the image to be printed, is produced on the screen either manually or photochemically.

First, the ink is applied to the substrate by placing the screen over the material. A squeegee is then employed and the ink is then forced through the fine meshopenings across the screen. The pressure of the squeegee forces the ink through the open areas of the screen, which makes it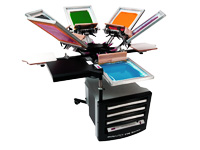 pass through only the areas where no stencil is applied. This forms the image on the surface of the printing object.

Benefits of Screen printing over other printing processes:
Vast assortment of inks and dyes are widely available for screen printing machinery than other printing machines.
The screen of this printing machinery can be re-used after cleaning.
The machine can print on any surface irrespective of shape, thickness and size.
Better thickness of the ink.