Home > Plastic Auxiliary Equipment > Robots
Automated Robotic Systems

Industrial Robots are defined by ISO as re-programmable, multipurpose and automatically controlled manipulators. These manipulators are easily programmable in three as well as more axes. Since the invention of robot, it always has been an interesting topic among people for unique automatic mechanism.

In simple word, a robot is an automated and sophisticated machine that is fabricated to accomplish complicated tasks that most other machines cannot. These technically advanced machines were developed mainly with an aim to reduce human labor, achieve accuracy and lower the required time. Robot are faster than human, more efficient, possess unlimited endurance and less likely to make mistakes. Scientists of robotics are engaged in various research and development to bring out more advanced and capable robots in the near future.

Types of Automated Robots or Robotic Systems: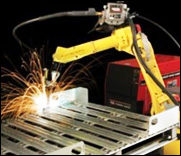 With new advanced technology emerging everyday, scientists are trying to develop more advanced and sophisticated robots relating to different domain of works. Modern Robots includes; Mobile Robots, Industrial Robots and Service Robots. Among industrial robots, again there is a wide variety. Some of the most famous types of industrial robots are as follows:
Articulated Robots: These are most widely used industrial robots with two or more joints.
Gantry Robot: These robots are also known as "Cartesian coordinate robots." Unlike articulated robots, these robots don't have joints; rather they have linear axes that are mounted at right angles.
SCARA robot: SCARA robot was developed in Japan in 1981. The design of these robots allows them to fold up, extend, and then fold up again.
Applications of Robots and Industrial Robotic Systems:

Robots are generally used in tasks that are fixed, purely repetitive and where the motion involved is predictable/routined like picking, placing, packaging and painting, ironing, welding etc. A few key fields of application are listed below :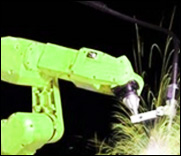 Robots are also used in tasks that are dangerous and can risk human life, such as handling hot molten metal in foundries or radioactive substances at nuclear power plants.
In automotive industry, automated robotic systems are of great use as assembly line workers. Because of their precise programming and steel-reinforced strength, robot could do the works in a much faster rate.
Further, one single robot can accomplish what otherwise would require 2-3 humans. Moreover, robot doesn't get tired and can work 24 hrs, so it becomes more cost effective for company.
Automated Robots are also used for in space explorations. They are programmed to make repairs to the space shuttle or the space stations orbiting earth.
Robots are also used by Government, especially for military purposes, like handling explosive ordinance situations.
We manufacture, supply and export varieties of industrial robots, robotic systems and other automatred robots. Contact us to buy or for more information on any types of robots and robotic systems.