Home > Plastic Auxiliary Equipment > Pad Printing
Pad Printing Machinery
What is pad printing?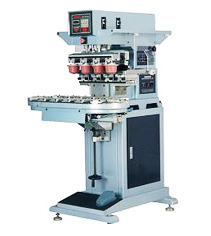 Basically, pad printing machinery is used to print on 3D objects like electronics, sports equipment, toys, apparels, and many more. This process ensures an indirect offset printing procedure. This Pad Printing Machinery transfer images from the printing plate to surface of the printable product. The whole images are transferred via silicon pads. This process features excellent cost efficiency and hence is employed in a wide spectrum of industries and applications.

Pad Printing in Plastic Molding Industries:

This basic and cost effective method is extensively used to print finished plastic parts with desired images. Firstly an the image is developed and etched in an engraving plate or " cliché" as it is generally called. The embossed area is inked and a silicone pad picks up this image and transmits this image to the plastic part. An unique vantage of the pad printing process is that the image can be transferred to irregular surfaces since the silicone pad will conform to these surfaces during the transfer of ink.

Technologies Employed:

In its initial days, pad printing employed a technology called the Open ink well system that used a trough located behind the printing plate for the ink supply. A flood bar forces ink over the plate, and a doctor blade takes away the ink from the plate surface, leaving ink on the etched artwork area, which is ready for the pad to pick up.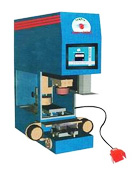 Pad Printing But most modern industries use an advanced technique called Sealed ink cup system. This system uses a sealed container (ink cup), which acts as the source of ink supply, flood bar and doctor blade all in one. The seal against the printing plate is provided by a ceramic ring with a highly polished working edge.

Some common features of the process of Pad Printing:

The best feature of the whole process is probably the fact that is tooling for pad printing is extremely cost effective, requiring only the cliché and a holding nest or fixture to secure the part. Further more, it is possible to print multicolored images even on polypropylene and polyethylene via this process. But it has to be noted that some inks need to be cured at elevated temperature after the ink is transferred while others can be air dried.