Home > Plastic Auxiliary Equipment > Indexers
Indexers / Indexer Machines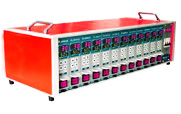 Powered by mechanical, thermal, chemical, or electrical means, machines are the most important resource for any industry. Machines are the backbone of any business organization or commercial enterprise. With the assistance of machinery, the set targets can be accomplished in a more precise manner which can be quite tedious if done manually. In the same way, rotational molding process cannot be executed without plastic auxiliary equipments. In this category, indexers or indexer machines play an essential role. Indexers are the most commonly used machines in rotational molding industries. With the help and the support of indexer machines, mould industry can produce various complex shapes and sizes from very small products to large industrial items. The reason indexers are so preferred by rotomolding professionals can be attributed to its properties, a few of which can be summarized as :
Compact Cast Iron Body
Double Extended Input Shaft
Universal Mounting Positions
Through Hole Can Be Provided and the likes.
These indexer machines are designed with many different size apertures, table diameters, and with mounting options to provide the ideal solution for industrial automation application. Its fields of application are vast, a few being :
Industrial robots
Vision systems
Fiber-optics and photonics
Machine tools
Semiconductor equipment
Assembly
Electronic manufacturing
Medical components
High-performance industrial automation applications
There are numerous manufacturers, exporters and suppliers in India, offering different types of indexers / indexer machines:

Indexers / indexer machines are commercially available as :
Barrel Cam Indexers (SD Series)
FD Cam Reducer Indexers
Parallel Cam Indexers (PD Series)
S.D. Oscillator
One of the most widely used types is the Barrel Cam indexers. These indexer machines are ideal for dial application such as driving a linage or inline conveyor. The stiff housing design and stable bearing arrangement guarantees a smooth and vibration free motion. Although indexers are suited for slower speeds with large mass movement, they are also capable of producing high positional accuracies, such as the large PCD of Roller followers.