Home > Plastic Auxiliary Equipment > Drayers
Dryer Machines

Dryer Machine is known to be one of the most simple yet significant type of Plastic Auxiliary Equipment. Lot of moisture remains in the resin pellet during the molding process, and it tends to move through the molding machine. Dryers are used to eliminate the moisture in resins and pellets and ensure smooth and well defined product finishing. These machines generally are fast-warming and temperature controlled perform drying, dehumidifying and two-stage conveying function in a single unit.


The heating barrel of these plastic auxiliary equipment is processed from stainless steel to provide durability, strength and to ensure that it is easy to clean. There exist an air dispersion device that is specially fabricated in the stainless net plate in the noose that enables the heat air to evenly blow the material. The temperature is even in the barrel and the material sinters difficultly. Dryers or dryer machines are also provided with a hinge connection structure between the heating barrel and hopper so that it facilitates easy cleaning and refill.

Advance dryers are outfitted with pneumatic shut-off valve so as to ensure that any material does not remain in the material line after the leading cycle. Also, these kind of dryer machines have two condensers to ascertain low air temperature & low dew-point. You can avail different types of dryer machines from renowned manufacturers, exporters and suppliers across India.

Materials Processed
Hygroscopic engineering plastics like :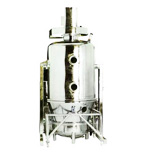 Salient features of Dryer Machines:
Increased efficiency and reduced pre-heating time.
Low energy consumption due to the heat air-recycling device.
There is a whirly dust arrester that ensures that the workshop is free from dust.
Dryers can be fitted with dew point monitor to observe and display dry air dew-point.
Insulated drying hoppers feature dry air down-blowing & cyclone exhaust design.
Possibility of moisture re-absorption is eliminated during material conveying stage, owing to the Closed-loop conveying system.