Home > Plastic Auxiliary Equipment > Cooling Towers
Industrial Cooling Towers
What is a Cooling Tower?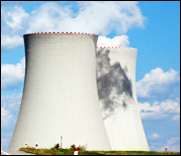 Water has manifold industrial usages. In any processing industry, where water is indispensable, it needs a cooling process, where Cooling towers are very handy to use. The heat is retreated by these towers from water by conduction or evaporation process. There are different types of cooling towers, some towers create process water that can only be used once, whereas other cooling towers create water that can be reintroduced in the production.

The Process of Water Cooling:

The water that needs to be cooled is pumped to the top of the cooling tower and than is allowed to flow down through the plastic or wooden shells of the tower. An air flow towards upward direction is maintained in the tower. When, water flows down it emits heat that mixes with the above air flow. As a result water cools down to 10 -20 ˚C. Part of the water evaporates which can sometimes be observed over the cooling tower and be mistaken for smoke from fire.

Application and Structure of Cooling Towers: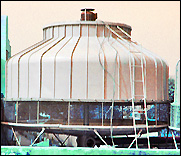 The common commercial usages of Cooling Towers are chemical plants, oil refineries, building cooling as well as power plants. In addition to this, nuclear power plants are important application area of these cooling towers.

The commercial Cooling Towers are designed as well as manufactured in a variety of sizes starting from small roof-top units to huge hyperboloid structures with diameter of 100 meter and height of 200 meters. Big rectangular structured cooling towers can also be seen in many industries. These towers can be of 40 meters tall and 80 meters long. The size and shape generally depends upon the purpose of use.

Hazards associated with Cooling Towers:

Cooling towers are made up of combustible materials in whole or in part; hence raises the chances of supporting internal fires. The resulting damage can be very severe and may even lead to the requirement of replacing the entire cell. So, combustible cooling towers are provided with an automatic fire sprinkler system.