Home > Plastic Auxiliary Equipment > Conveyors
Conveyor Systems
A conveyor is one of the most common equipment used in all industries across the world. This material handling equipment is mainly employed for efficiently transporting bulky material from one location to another. There are many kinds of conveyor system available commercially, suiting the various needs of different industries.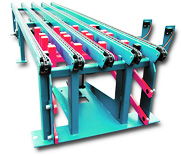 The use of conveying system in the process of molding

Industrial Conveyor System generally functions in cycle comprising number of stages. The pellets are transported through the conveying line in slugs. The first step is to transfer pellets from silo to the conveying system pressure vessel through the top inlet. As soon as the pellets reach up to the high level sensor, intake lid closes & stream of compressed air surges into the vessel. The compressed air then pressurizes the vessel, and help in pushing the pellets out of the bottom discharge into conveying line. This results in the discharge of slug through the conveying line at a high velocity. After this, the vessel's discharge closes and the top inlet opens up again in order to allow more pellets in.

This cycle is repeated over and over again, until all the pellets are filled into the dryer-hopper. The cycle is finished with an air purge, which ensures that the conveying line is clear.

Benefits of Conveyor System

Conveyor systems are used widespread across a range of industries due to the numerous benefits they provide.
Conveyors efficiently transports bulky materials from one level/place to another, which when done by human labor would be strenuous, expensive and would consume a lot of time.
These belts are very easy to install and dismantle. Hence they can be installed almost anywhere and are much safer than using a forklift or other machine to move materials.
They can move loads of all shapes, sizes and weights. Also, many have advanced safety features that help prevent accidents.
There are a variety of options available for running conveying systems, including the hydraulic, mechanical and fully automated systems, which are equipped to fit individual needs.
There are variety of conveyors, conveyor systems, Industrial Conveyor Systems, offered by reputed manufacturers and suppliers in India.