Home > Plastic Auxiliary Equipment > Conveying System Controllers
Conveying System Controller Machines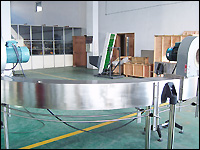 Conveying System Controllers are electrically operated machines that are used for feeding forging press and hot billet. These machines come with two ejectors, one is utilized to reject over heated billets and another one is utilized to drop under heated billets. There are large number of manufacturers and suppliers, engaged in offering precision engineered Conveying System Controller Machinery across India.

The conveying system at glance

Conveying System Controller Machinery functions in cycles, starting with the pellet transportation through the conveying line into slugs. At the first stage, pellets from silo are fed into the conveying system pressure vessel through a top inlet. When pellets reach high level sensor the intake lid closes, and a stream of compressed air rushes into the vessel. This results in immense pressure in the vessel and the pellets are pushed out of the bottom discharge into conveying line. The slug is pushed through the conveying line, at a very high velocity and after this vessel's discharge closes & top lid opens so as to allow more pellets in.

This cycle is repeated until all the pellets are filled into the dryer hopper, and ends with an air purge cycle which ensures that the conveying line is now all clear.

How does the Conveying System Controllers function?

In order to monitor and maintain pellet levels in the dryer-hoppers and to assure that extrusion process operates smoothly and in a streamlined manner, Conveying System Controllers are employed. The dryer-hoppers have high- and low-level sensors, so when a hopper's pellet level gets low, the low-level sensor signals the system's controller to convey pellets to the hopper which starts up the the appropriate diverted valve to direct the pellets into the hopper and then simultaneously starts up the rotary valve to feed pellets into the conveying line and the PAR station to convey them to the hopper.

With the help of Conveying System Controller, the lines do not have to be purged every time a hopper has been filled. The pellets stay in the line and the whole conveying system can be restarted without any hassles.