Home > Plastic Auxiliary Equipment > Chillers
Chiller Systems

Chiller Systems are widely used in the plastic industry for cooling purposes as this field has various temperature control processes. Chillers ensure quick temperature control within a short duration of time for cooling the heated molds to resume their shape. Reliable Chiller System increases the efficiency of molding machinery. Due to this reason, Chiller Systems are highly demanded in the industry.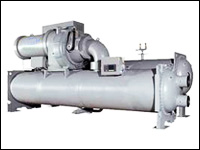 Chillers: How does chillers work?

A chiller removes the heat from the molten mold materials by a vapor-compression or absorption refrigeration cycle. The mechanism involves a heat source which provides the energy needed to drive the cooling system. The whole process can be explained by the following three phases :
Evaporation: A liquid refrigerant vaporizes in a low partial pressure environment, thus infusing heat from its surroundings – the refrigerator.
Absorption: Once the gaseous refrigerant is absorbed, it is dissolved into another liquid decreasing its partial pressure in the evaporator and permitting more liquid to vaporize.
Regeneration: The refrigerant-laden liquid is heated, causing the refrigerant to evaporate out. It is then condensed through a heat exchanger to replenish the supply of liquid refrigerant in the evaporator.
Chillers are commercially available in a wide variety of shapes, sizes and specifications. Most of them are compact, movable and have low volume levels. They are also fabricated with inbuilt with compressors and water pumps, and are fast cleaning.
A typical chiller comprises the following few components:
Condensers
Evaporators
Compressor
Liquid line solenoid
Pumps
Filter Dryer
Hot Gas By-Pass with Shut Off Valve
Crank Compressor and Heater
Freeze Thermostat
Water Flow Switch
Evaporator Water Inlet Strainer.
Types of chillers:
Chillers employed in industries can be segregated in two main types:
Centralized : These type of chiller serves multiple cooling needs.
Decentralized : Where each application or machine has its own individual chiller.
A few specification to keep in mind while searching for industrial chillers:
Total life cycle cost
Power consumption
Chiller IP rating
Chiller cooling capacity
Evaporator capacity
Evaporator material
Evaporator type
Condenser material
Condenser capacity
Noise level,
Internal piping materials
Number of compressors
Number of fridge circuits
Coolant requirements
Fluid discharge temperature
COP (the ratio between the cooling capability inRT to the energy used up by the entire chiller in KW).