Home > Plastic Auxiliary Equipment > Bottle Unscrambler
Bottle Unscrambler Machine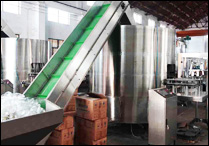 The Automatic Bottle Unscrambler Machine is widely used in the industry of packaging for unscrambling the disordered polyester bottles. This machine ensure a systematic arrangement of the bottle in one line and discharge these with the help of vacuum conveyor.

How an Automatic Bottle Scrambler Operates?

After service testing, containers are randomly dumped into the supply hopper, then they are gradually feeded to the paddle wheel. From there on the bottles are passed from one unit to other and finally they are sent down to an adjustable slide chute where thee bottles are oriented to an upright position.

A plastic bottle unscrambler has various units that carry fort different activities for ordering the bottles in a line. Following are the sub units or the processing line up of a bottle unscrambler:
Service testing
Hopper assembly
Paddle Wheel
Pre sorter disc sensor
Orientation Unit
Stand Up Unit
Backlog Sensor
Ionized Air Risner
High End Features of an Automatic Bottle Unscrambler

Various high end features like PLC program controlling; digital programming; automatic high speed operation, etc, characterizes an efficient Bottle Unscrambler. Some more requisite features of a Bottle Unscrambler are listed below:
Rugged construction with non-marring contact surfaces.
Bottle Unscrambler Capability to handle bottles of different materials like plastic, metal, corrugated containers
Ability to handle different container shapes like round, square, rectangular, oval, tapered, F-style, etc.
Ability to orient a large number of containers
Capability of fast changeovers from one size to another.
Should possess a low profile design, which increases the safety and also makes servicing and changeovers easy.
Should not be demanding expensive tooling for changeovers
Should be equipped with electronic variable speed controls for all orienting functions.
Better if it posses few moving part in-order to minimize maintenance and maximize machine efficiency.
An ideal bottle unscrambler insures that bottles are positively held, moved and controlled throughout the unscrambling process. Further, there should be no reciprocating motions, complicated mechanisms, or hard-to-adjust container handling parts. All these features ensures low maintenance and high reliability of a bottle scrambler.