Home > Plastic Auxiliary Equipment > Bottle Labeling System
Bottle Label Printing Machine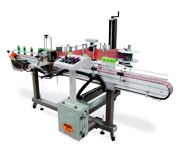 Bottle Label Printing Machine is used in a large number of industries to print the brand name of the products. Various printing technologies like flexo, offset and screen printings are exclusively used for this purpose. The printable stickers are carefully designed in modern software. Among all these aforesaid printing procedures, screen printing is the most versatile as well as easy method for label printing. This process even ensures high quality printing in small batches.

Basically, a label printer machine features the below mentioned parts:
Single printer
One applicator
A procedure to handle label as well as ribbons, which is referred as media
Basically, a printer or printing machine accept data from any computerized system. Both thermal and thermal printer methods are used to warm up the fine elements on a print head. A ribbon that is coated with wax, resin, etc. are used in this thermal transfer method. Also, these rely on the software that are used for the designing purposes.

The Bottle Label Printing Machines are designed to fit for cylinder, tubes, cans as well as round bottles. With PLC control as and fixed position, these machines ensure highly efficient operation.

Some features of these machines are:
Fit for Round bottles, cans, cylinders or tubes.
PLC Control+Fix position.
Affordable price and Easy to adjust
Can be equipped date/code printer
These machines are utilized in the industries of cosmetics, beverage, food, medical, etc.

A bottler label printing machine has an applicator section which fix label in the product. Commonly a electric or pneumatic cylinder along with a label pad is connected with the adhesive side of the label. Media in any bottle label printing machine is the method of handling label as well as ribbons. The resulted prints of these machines are of high quality and lucid easily grabbing the attention of the consumers.