Home > Material > Occasionally Used Materials > Acetal
Acetal

An Acetal is a very popular polymer that is used in the manufacture or engineering of various goods. It is highly resistant to oils Catalan alcohols but is non-resistant to Acids, thus it is recommended to keep away from acids. Acetals, also known as Ketals, are formed by the process of Acetalisation, which is an irreversible action. The plastic known as acetal is polyacetal of formaldehyde.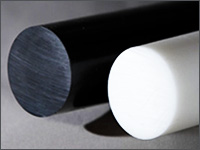 Owing to their excellent mechanical and thermal properties, acetals are considered to be the best versatile materials in rotational moulding process. Due to the presence of high strength, stiffness, toughness and creep resistance over a wide range of loads and temperatures it establish the great compatibility with rotational moulding process.

Other Admirable Properties of Acetals:
Good Rigidity and Strength
Excellent Chemical Resistance
Moderate to High Price
Good Heat Resistance
Better Wear Resistance
The temperature at which rotational moulding is done with acetal is less as compare to any other component. Thus, at the time of rotational moulding, maintaining a control over its temperature is very essential else it may result in generating formaldehyde gas.

Temperature Statics while performing the Rotational Moulding with Acetal are as follows:
Maximum temperature 180O F 800 C
Minimum temperature -400 F -400 C
Melting point 3200 F 1600 C
Tensil strength 8.800 psi
Other Application Areas of Acetal:
Mechanical Engineering
Electrical Engineering
Automobile Industry
Medical Industry
Construction Industry, and many more
Typical applications that can be developed with the combined form of acetals in rotational moulding machine are nuts, bolts and washers as well as a wide range of low cost, light weight, mechanical parts for general applications such as cobs, levers, mechanisms and sprockets. Acetal is also popular for its hygiene sensitive applications such as the food and beverages, medical sector, pharmaceutical industry and hi-tech bio-technology sector.