Home > Machinery > Woodworking Machinery
Woodworking Machinery

An invention of technological innovation, Woodworking Machinery are large power tool meant for wood processing. These machines are streamlined by electric motors, and contribute hugely for the Wood Shops. These tools give an extra edge in optimizing woods to perfection in terms of shapes, sizes and designs. Be it cutting, drilling, making holes or thinning the layer of surface plane of woods, the Woodworking Tool is best choice for Wood shop Owners.

There are various types of Woodworking Machines. The detailed list is mentioned below:
Artisanal And Hobby Machines
Combined Chain & Chisel Mortiser
Copy Router Machine
Panel Automatic Packing Equipment
Panel Boring Equipment
Panel Edge Processing Equipment
Panel Line Woodworking Machines
Panel Surface Processing
Universal Wood Working Machine
Lathe Machine for Wood Working
Features, Usage and Functionality of various Woodworking Tools:

Table Saw - The most commonly used tool in wood shops. Owing to its heavy usage in wood shops, this machine is one of the preferred name of all Woodworking tools. Table Saws are used in giving right shape and size to wood material, making it perfect for usage for various purposes.

Band Saw - The Band Saw are known for its cutting precise curves of wood, giving it the right dimensional finish. In addition, this tool is highly efficient in handling various number of cuts, which are basically the job of Table Saws or Radical Arm.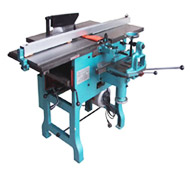 Function and usage of Drill Press for Woodworking:

Apart from Drilling as the core function, Drill Press has several other uses, which makes it a versatile Woodworking Tool. When coupled with a mortising attachment, this tool can drill square holes in swift way. In addition, it can also be used as a spindle sander.

Surface Planers - Making the Stock thin as per requirement This tool is widely used to cut thick boards to thin layer and make them appropriately down to preferable sizes.

Jointers - The most swift way in squaring and making flat surfaces The Woodworking Machine is configured to develop flat surface on particular edge of the board. In addition, this tool can also prove handy in making perpendicular edge square to the flat side of the surface.

We manufacture, supply and export all types of woodworking machinery and equipments. Contact us to buy or for more information on any types of woodworking machinery.