Home > Machinery > Wire Machinery
Wire Making Machinery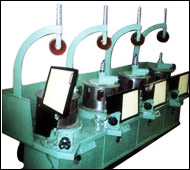 Wire making is metalworking procedure, which is used to minimize the cross-section of wire by puling it through a series or single drawing die. Wire Machinery finds varied application in electrical wiring, tension-loaded structural component, cables, paper clips, springs, spokes for wheels and Musial instruments.

Wire Machinery is coupled with several accessories, which includes:
Butt Welding Machine
Killing Roller Sets
Microbutt Welding Machine
Wire Pointing Machine
Wire Rope Hoists
Wire Strippers
Strong welding length and accurate welding pressure are the well defined characteristics of Butt Welding machines. Moreover, the primary and secondary material of highly efficient transformer provides hassle-free and long service life.

Killing Roller Sets:

Killing Roller Sets consist equipment with various drawn specification and construction. These sets are engineered with Grade-A raw material, which goes through stringent quality testing, making it suffer least maintenance cost. This machine guarantees swift performance and long application life.

Micro Wire Butt Welding Machines:

Micro Wire Butt Welding Machines are compatible with best suited for welding high carbon steel, mild steel, copper aluminum wires, etc. these machines can easily weld wire, which range up to 0.3 - 2.5 mm.

Wire Pointing Machines:

These Wire Machinery are best suited for pointing various material like high steel carbon, mild steel and aluminum copper. The pointing rolls in Wire Pointing Machines are made of pure carbon alloy steel component, which is further tempered, hardened and ground finished. This tool works in either ways, manually and by mechanical power. The wire pointing machine is configured with 4 wheels, which makes it smooth in movements and useful in serving different drawing machine.


Wire Rope Hoists:

This machine is widely available in hoists with mounted stationary, powered alloys, manual alloys, geared trolleys etc. The capacity of standard as well as customized hoists ranges to several tons.

Wire Strippers:

Wire Stripping is the least expensive and easiest device type of Wire Machinery, which produces heavy weight bundles. These tools are fixed on the finishing edge block of wire drawing machine, having much space to carry 1,000 to 3,000 lbs. of wire, which depends upon the size of the wire.