Home > Machinery > Tires Repair & Retreading Materials & Machinery
Tire Repairing Machinery & Material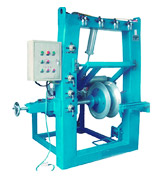 Tire Repairing, Retreading and Recapping Machinery & Equipments

Tyre industry in India is one of the leading industries having annual turnover of Rs. 13,500 Crores. There are around 40 large and medium scale companies/ entities that are involved in the manufacturing tyre. With the increase in commercial as well as private vehicles in India, demands for quality assured tyre have also taken a toll over the years. Made from rubber, tires are continuously in contact with the road and due to constant friction these need to have great wear and tear resistance. There are various equipment and tools that assist in repairing or mending the tires.

Every single tyre has a life span, after which it starts losing the grip on the road and should not be used as it can lead to mishappenings. But it should not be thrown once it wears out. The used tyre that is out of service can be recycled and re-used. This process is called Retreading of tires which involved re-manufacturing of the previously-worn tires in order to make them reusable. In the process of retreading, the wearing surface of a tyre is replaced. The three ways of retreading a tyre include; Top-capping, Recapping & Bead to Bead. In order to facilitate these operations various types of retreading machines are used.

The tyre retreading machine / tire recapping machine that is used in top capping for removal of tread of the tire and replaces it with a now one, is one of the most commonly used machinery. On the other hand, the machines that facilitate recapped tyres, replace the worn tread with new and large one. In the bead to bead process, machines remove older tread and put a new one that covers the entire lower part of the tire and goes from one side to the other. Further, it covers the sidewalls as well with a rubber layer.

Number of reputed manufacturers are introducing better and more advance tyre repair and retreading machines in the market, in order to meet the growing demands. These machines are user friendly, power efficient, wear and tear resistant, easy to maintain and cost effective. Following are some of the widely used tyre repair, tyre recapping & tyre retreading machinery: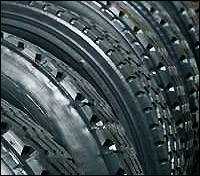 Tyre Retrading Plant
Tyre Recapping Plant
Automatic Tyre Changer
Car Test Lane Videoline
Digital Tyre Inflator Machines
Nitrogen Tyre Injector
Scissors Alignment Lifts
Semi Auto Tyre Change
Tyre Changers
Wheel Balancers
We manufacture, supply and export all types of tire repairing machinery, tire retreading machinery, tire recapping machinery and equipments in India. Contact us for any information regarding tyre repairing machines and equipments.