Home > Machinery > Tea & Coffee Machinery
Tea & Coffee Vending Machines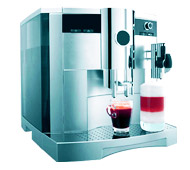 Have you ever imagined owning a business where the profit earning exceeds the investment cost? If yes, then vending business is the ideal way to go. In the market, you will find a number of manufacturers promising to provide you with best and cheapest tea and coffee vending machines, but beware of the fraud cases. We recommended to go for the reputed online portal and search for tea coffee vending machines manufacturers to set up a strong and reliable base for your vending business. Generally, most of these fabricators also provide quality premixes for coffee and tea. Hence, you get all-inclusive vending solutions under one roof.

The designs of tea and coffee vending machinery is generally based on the new technologies and market demands. Hence, you will find various companies manufacturing this product in compact and energy efficient design, which is ideated from the processes involved in its usage such as planting coffee / tea and dispensing it in your cup. These machinery allow the use of roasted coffee beans which you can use to present your clients with an enjoyable cup of fresh and aromatic coffee.

Vending Machinery Construction:

Stainless steel and mild steel are the two most popular material for the construction of coffee and tea vending machinery. Also, many manufacturers prefer to apply a rust proof coating onto their surface. The main parts of this machinery are Canisters, Heater Tank, Main Chassis, Mixing Chamber and Silicon Tube.
Top grade SS is used for making heater tank.
Pharma grade silicon or other material are used for tubes that carry hot water.
Food grade plastic is used to mold Canisters, Mixing Chamber and other plastic parts.
Types of Tea Coffee Vending Machines:
Single Lane Vending Machine
Two Lane Vending Machine
Four Lane Vending Machine
General Technical Parameters:
Auto Cleaning System
Auto Flush Programmable
Different Canister Capacity
Different Number Of Canisters
Dimensions Varies In Height, Width And Depth
Electricity Saver Design
No. Of Drink Selections: One/Two/Four
Option Is Available For Hot Water
Program Locking System Is Possible Though Password
Quick Start Up Time
Standard Dispensing Rate
Contact us to buy tea vending machines, coffee vending machines or for more information on different types of tea and coffee vending machines.