Home > Machinery > Steel Rolling Mills
Steel Rolling Mill Machinery

Steel Rolling mills turn molten steel into blooms, ingots, slabs and sheet through casting, hot rolling and cold rolling. Steel Roiling is a process where steel is formed by passing the steel stock through a pair of rolls. The process of rolling is classified according to the temperature of at which the metal is rolled. If a temperature above the steel's recrystallization temperature is used then the rolling is known as hot rolling and it is carried out in Hot Rolling Mills; when temperature below the recrystallizing temperature of steel is used, it is known as cold rolling and the process is carried out in Cold Rolling Mills.

Steel Rolling Mill Plants are widely used across the world for steel rolling in various industrial segments. Large majority of steel/ metal products are subjected to metal rolling at one point in their manufacturing cycle. Over the years, advance technologies have been applied for fabricating world class steel rolling mill machinery in order to achieve highest productivity. The products developed from these mills are accurate in design, precision engineered and durable. Across India, you can find number of manufacturers involved in manufacturing premium quality steel rolling mill plants as per the client provided specifications. Steel rolling mills find application in small to large scale industries.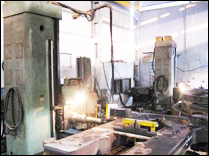 Also known as a reduction mill, a Steel Rolling Mill comprises of the following parts or sections:
Work rolls
Backup rolls : They provide rigid support to the working rolls in order to prevent them from getting bend under the rolling load.
Rolling balance system : This balance is fabricated int0o the mills in order to ensure that the upper work and back up rolls are in proper position balancing the lower rolls.
Roll changing devices : An overhead crane is usually used as a roll changing device; it is attached to the neck of the roll to be removed.
Mill protection devices : These devices regulate the forces that is put on the backup roll chocks ensuring that the forces wouldn't cause any fracture roll necks or damage the mill housing
Roll cooling and lubrication systems
Pinions
Gearing
Drive motors
Electrical controls
Coilers and uncoilers
These are the basic sections of steel rolling mills, however cold roll mills may differ from hot roll mills in terms of certain section/ parts.