Home > Machinery > Soda Making Machinery
Soda Making Machinery

The field of kiosk and food vending business is flourishing with the flow of time; the demand of soda making machine is increasing continuously, respectively. Most companies find the concept of soda fountain machine as the ideal franchising opportunity in countries like India, Malaysia and Dubai, to name a few. This product is an evergreen entity of the food and beverage industry, commonly found in various commercial outlets. The soda making machine price in India vary from manufacturer to manufacturer and model to model. Kindly consult the preferred manufacturer for the best machine for making soda.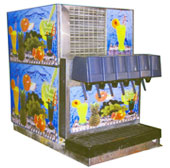 What is Soda Machine?

Soda making equipment gives that distinctive edge to its owners letting them being their own boss and harvest quick profits on their initial cost of investment. The soda machine/maker supports variety of soda flavors (there are more than thirty flavors) that are savory and taste-bud tingling. Many soda making machine manufacturers fabricate it the range of 4+1 valves/heads to 24+2 valves/heads. Furthermore, some manufacturers also offer customization support for these machines. Before buying soda making machinery, make sure that it has an extra valve for non-carbonated drinks (the ones without gas).

Recommendations on Buying:

The soda making machines are available for commercial and industrial use. Before buying these machinery, make sure that they have sophisticated & stylish design, easy installation, simple operation, and longer service life. Also, go through soda making machine reviews before selecting any particular model and brand. The ideal features to have in these machines are, consistent drink quality and energy efficiency.

Standard Features:

Start your business in a small floor area by investing a small amount in soda making machinery that generally have following features:
Compact design and hence less space requirement
Easy usage and simple installation
Fully automatic operations
Less electricity consumption
Noiseless operation
Requires less maintenance
Support of multiple flavors in one machine
Working of Soda Fountain:
The soda making machinery have a carbonator which is used to dissolve CO2 into water. This is done by increasing the gas pressure or by lowering the water temperature. For increasing the pressure, booster pumps are used.
Then, the mixture of flavored syrup and soda water is created for preparing soft drink. When the carbonated water is mixed with syrup, it exit out of the nozzle upon the pushing down of the lever of the machinery. Generally, a tank hooked up to tubes is used for storing the syrup.
Contact us to buy or for more information on any type of soda making machines and equipments.