Home > Machinery > Rubber Machinery
Rubber Making Machinery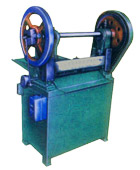 The sector of rubber manufacturing industries is not only limited to the development of rubber, but also includes a wide number of other sectors. The field of rubber manufacturing industries also comprises the crumb rubber industries, centrifugal factories, creaming of rubber industries and so on. The important contribution of these industries towards the society is commendable that meet the day to day needs of everyone.

Each and every year, tons of tons of rubber and its products are developed by these industries. Rubber sheets, extruded rubber goods, erasers, automotive rubber components, molded rubber goods, and many more important products are developed by them. In addition to this, these industries also play an important role in providing a quality range of raw materials to other sectors including footwear, textile, automobile companies and the list goes on.

As these industries have been developing infinite number of goods in minimum period of time, they must need swift and flawless production machines. To develop high quality industrial grade rubber, semi finished as well as finished rubber goods, a wide range of high technology application-specific machinery are available in the market. These rubber making machines can be availed with semi automatic or fully automatic features as per the specific need of the user. According to the model, the array of machines is available in varied specifications pertaining to output, speed and varied other technical features.

Rubber machine and equipment has become vital to develop unmatched quality products for the industries like automotive, mining, defense, medical, conveyor belting, roofing, floor tiles, and other rubber goods production industries. Designed to meet the demands of different industries, these machines are featured with quick installation, easy to use design, rust resistance, efficient functioning, low maintenance, high speed and easy operation characteristics.

Some of the important rubber machines used by varied sectors are listed below:
Stock Blending Machines
Rubber Sheeting Machines
Rubber Vulcanizing Machines
Rubber Stamp Machines
Rubber Sole Machines
Rubber Refiners
Rubber Processing Machines
Rubber Mixing Mills
Rubber Cracker Mills
Rubber Extruders
Rubber Dispersion Kneaders
Rubber Compounding Machines
Rubber Calendar Machines
Rubber Bale Cutters
Laboratory Machines
Contact us to buy or for more information on all types of rubber making machines and equipments.