Home > Machinery > Rotomoulding Machines
Rotomoulding Machines & Equipments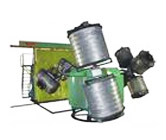 One of the extremely versatile and widely used plastic manufacturing techniques is rotomoulding technology. The rotomoulding technology is most suitable for developing seamless, light weight and stress free plastic products. Owing to its unmatched versatility, it gives wide options in terms of experimenting with the shape, size, finishes and surface textures. The machines used in such plastic manufacturing process are called rotomoulding machinery.

Rotomoulding is a latest molding technique/ technology that is used for fabricating hollow items (mostly of plastic), such as toys, tanks, medical products, leisure craft, and more. This technique is preferable over other molding techniques due to its low level of residual stresses as well as inexpensive molds. The resins used in manufacturing can be polyethylene, plastisols, polycarbonate, polyamide, acetate butyrate, elastomers, polypropylene, polyurethane, ethylene vinyl acetate & fluorocarbons. Rotomoulding process includes molding of plastic resins, using a rotating mold hanging against two perpendicular axis. After this, the rotating mold is heated-up. Post the heating session, this mold is left for cooling while the rotation is still on. The detailed description of Rotomolding procedure is mentioned below:

Understanding Rotomoulding Machinery:

Different types of rotomolding machines are manufactured using various body parts, depending on the function they are supposed to carry out. Yet, all rotomolding machines comprise three basic parts that are:
Oven
Cooling chamber
Product Loading and Unloading Section

The rotomoulding machines follow different processes & sub processes in order to fabricate various types of hollow molded plastic products or plastic moulds. For conducting different processes, there are large variety of rotational moulding machines available in the market. Though, different types of machines carry out varied job works, all of these can be broadly categorized into the following:
Clamshell
Rock-'n'-roll
Independent cart
Shuttle
Turret.
Hi-tech Rotomoulding Machinery is outfitted with environment friendly burners that are suitable for CNG, LPG, Oil duel fuels. The machines are fabricated with quality heat panel backed by advance heat transfer technology which facilitates uniform heating, further resulting in seamless and smooth end products with well-defined outlines. There are usually one or more arms in Rotomoulding machines. The arms can be rotated along the vertical and horizontal axis. Also, these arms are fitted into the machines for regulating movement of the molds.

Types Of Rotomoulding Machines:

There are numerous manufacturers and suppliers, offering varied types of Rotomoulding Machines widely used in undertaking rotomoulding process for plastic and fabrics. Below mentioned are some of the commonly used Rotomoulding machines:
Moving Oven Type Rotomoulding Machine
Vertical Injection Type Rotomoulding Machine
Shuttle Type Rotomoulding Machine
Compression Rotomoulding Machine
Blow Moulding Machine
Injection Moulding Machine
Transfer Moulding Machine
Thermoforming Machines
Sintering Machine
Extrusion Rotomoulding Machines
Bi-Axial Rotomoulding Machine
Rock n Roll Machine
Carousel Machine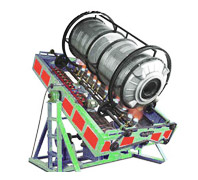 Rotomoulding Accessories:
Boom Crane
Mixer
Table Saw
Grinder
Cutter
Extruder
Blender
Pulverizers
Granulators
We manufacture, supply and export all types of rotomoulding machines and other tools & equipments used in rotomoulding process. Contact us for any query regarding any types of rotomoulding machines and equipments.