Home > Machinery > Rotogravure Printing Machine
Rotogravure Printing Machine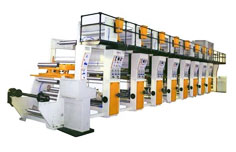 Rotogravure Printing Machine can transfer more ink to papers apart from other printing machine. It gives a extraordinary density range and therefore, this machine is widely used for photographs and art reproduction. Catering to the flexible packaging industry, this machine can print on nylon, OPP and PE. This machine features high start-up cost. Hence, it is advised to use for bulk production of minimum thousand copies.

Inside a Rotogravure Printing Machinery:
Clutch and brake
Cylinders, made of copper plated steel or aluminum
Drying chamber
Heaters with blower system roll
Main motor AC with variable frequency speed drive control
Reverse printing attachment
Other standard accessories.
These are general parts of a Rotogravure Printing Machine. Some companies provide customized range of these machinery with the below mentioned few optional features:
Stroboscope for easy registration control
Ink Circulating Pump
Auto Tension Controller (Powder Brake)
Auto Web Guide System
About Rotogravure Printing:

Rotogravure Printing is one of the intaglio printing processes in which an image is incised into a surface of metal plate or cylinder by engraving. Like offset printing as well as flexography, this process is carried out with a the help of a rotary printing press. The rotogravure process is widely used for commercial printing of postcards, corrugated product packaging, magazines, paper, aluminum foil, film, laminates, etc. This printing process ensures long run printing images.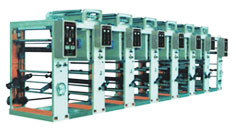 History and Development:

The history of Rotogravure Printing can be traced back to the late 19th century. For the first time images were transferred through carbon tissue that is covered with light sensitive gelatin. This marks the commencement of Rotogravure Printing process. Between 1930's and 1960's, several newspapers published special rotogravure sections in the Sunday editions. In 1932, Rotogravure process was regarded as popular medium for advertising.

Illustration of Rotogravure process:
PNEAC: Gravure Printing: This process utilizes rollers, ink pen and cylinders (rotogravure).
Photogravure: A kind of gravure printing that utilizes etched copper engraving plates.