Home > Machinery > Roll Forming Machinery
Roll Forming Machinery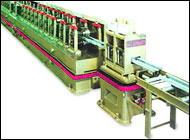 Over the years, new innovations have come into the field of Roll Forming Machinery to process and shape steel for various purposes like construction, etc. The market is improving and the demand of enhanced technologies, too. Gradually with the arrival of new technology, effective and sophisticated machines & tools for converting steel into various shapes have come up, known as advanced roll forming machinery.

Roll Forming - The Machine and Process:

Since the establishment of civilization, the process of roll forming has clearly shown an example of the evolution in the metal processing field to accomplish the task of rolling sheets. Use of roll forming machinery and other related technologies has shown progression over the time that has taken place in the metal forming industry.

Techniques, material and methods have been changing day-by-day, and it is for the development as well as growth of the metal industry. Basically, the Roll forming is a continuous bending technique employed to bend or roll long metal strips or coil into a specified cross-section. It covers a number of sets of rolls / stands. And a roll forming machine has a core use for the production of lengthy components in a large quantity.

The Roll Forming Machine comprises of several successive rolls that thoroughly bend the metal into desired shapes. Every set of roll bends only a little portion of the metal. Further, this bent metal is made to pass through the roll forming machine to meet its desired specifications.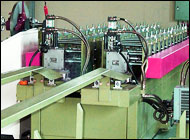 Nowadays, Roll Forming Machinery are incorporated with various computer aided tooling techniques and designs. With such incorporation the machines have started running at their maximum potential. Some of the advantages of Roll Forming Machines are:

Convenient in forming the metals.
Energy efficient, due to its less energy consumption to heat material.
Adjustable process, applicable at varying time durations.