When it comes to manufacturing large hollow plastic parts, nothing beats the process of rotomolding. Compared to other molding or casting processes like injection or blow molding, rotomolding is exceptionally cost efficient and the products produced are also of better quality.
| | |
| --- | --- |
| | Equipment and Tooling |
| | |
| --- | --- |
| | Mould Products |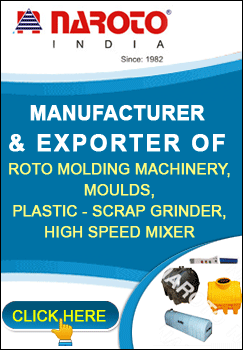 Home > Machinery > Road Construction Machinery
Road Construction Machinery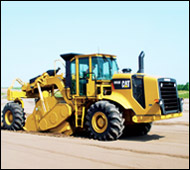 Road construction machinery, one of the important needs to prepare a solid and robust road, is available in a variety of types. From a simple tool to a heavy duty complex machine, a number of construction tools are required to develop a long lasting road with high quality standards. In addition to roads, these types of machines are also highly useful in developing bridges, highways, and so on. Today, these machines are in huge demands among construction companies to execute different construction projects with high efficacy.

Types of Road Construction Machinery & Equipment
Batching Mixing Plant: Batching mixing plant is reckoned as a sturdy equipment or machine ideal for developing highways, paving roads and so on. This type of plant is also employed for developing airports, bridges, and skyscrapers. Generally, this is designed with huge head gates as well as aggregate buckets. Pneumatically operated, this machine is featured with cement weigher, water weigher, plant control cabin, mixer, control panel, radial scrapper and varied other features.
Hydrostatic Sensor Paver: Hydrostatic Sensor Paver is a precisely engineered innovation in the domain of road construction equipment. This high technology and engineered array is designed from advanced technology components and parts. The assortment of hydrostatic sensor pavers includes sensors, conveyors, screeds, engine, a splitter gearbox, a driver, an operator console, remote control panel, etc.
Soil Compactors: Soil compactors are listed among those road construction machines that include a number of standard equipment in one package. Engine filter, articulated steering, engine oil pressure, fuel gauge, engine temperature, hour meter, hydrostatic systems, oscillating center joint, horn, steel sun canopy, oil level, oil bath dry air, air filter clogging indicators and so on are a few major elements of this highly used equipment.
Apart from above, some other important Road Construction Machinery & Equipment are: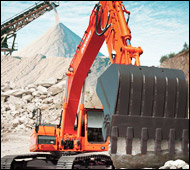 Asphalt Drum Mixers
Curbing Machine
Hydraulic Sweeper/ Broomer
Prime Mover
Rotary Drilling Tools
Sweeping Machine Hydraulic
Tandem Vibratory Roller
Transit Mixer
We provide all types of road construction machinery and vehicles, machinery, tools and equipments used in road construction. Contact us to buy or for more information on any types of road construction machinery.