Home > Machinery > Rice Machinery
Rice Machinery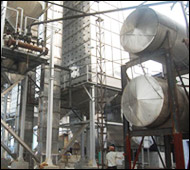 More than half of the population of the world consumes rice in different ways as a staple food. To meet the market demands of rice with proficiency and speed, a complete line of rice machinery, equipment and tools are used by the industries around the globe. From processing, milling, grinding, to other functions, rice machinery is employed by small, medium and large scale firms. These machineries are developed by combining simple as well as conventional tools to design fully fledged and high-performance equipment.

Given Below are Some of the Important Rice Machinery:
Paddy Huskers: Paddy huskers are designed efficiently for separating husk from the paddy. These types of machines are quite simple is design loaded with a feeding, driving as well as speed-changing device for weights-pressing rollers and a separating device. They are available in various models with different specifications and output capacity.
Paddy Cleaners: Paddy cleaners or pre cleaners are used for sieving paddy for removing all the impurities of varied sizes. Stones, dust, straws, and various other types of impurities are eliminated precisely from the rice through these paddy cleaners. Today, a user can avail these cleaners with high technology features to ensure smooth operation, precise performance, low maintenance & less power consumption.
Destoners: This rice cleaning equipment works by removing sand stones and vicarious other impurities from the paddy. The cleaning capacity of this equipment varies with its design, used components and model. A user can also avail pressure type gravity destoners that are designed to eradicate impurities from paddy using efforts of mechanical motion as well as wind force.
Rice Graders: Rice graders, ideal for grading rice, are used in medium and big scale rice processing sectors. These graders are utilized for separating dissimilar qualities of rice as per the sizes of granularity. Every high performing rice grader is designed in simple structure for hassle free operation.
Rice Whitener & Polisher: Rice whitener and polisher are mainly used for removing the reddish and grayish layer from the rice. These machines are developed for cleaning rice to ensure white and polished texture. These are robustly designed in varied cone sizes as well as polishing capacity.
Color Sorter: These are developed for color sorting of different varieties of rice. These machines are designed from the high tech image acquisition systems, smart image processing algorithm and easy to use features to ensure precise color sorting without any flaw.
Other Rice Machinery:
Abrasive Cone Polisher
Bran Cleaners
Elevators
Glazing Machine
Gravity Paddy Separator
Husk Aspirator
Pneumatic Bran Cleaners
Pneumatic Dehusker
Sample Tester
Sizer
Wet Rice Polisher
We manufacture, supply and export all type of rich machinery, machines and equipments used in rice processing. Contact us to buy or for more information on any types of rice machinery.