Home > Machinery > Printing Machines
Printing Machinery

From ancient woodblock printing to the modern time of digital printing, the printing machines have seen many changes and development regarding machine design, model, working process, output capacity and service life. Modern day printing machines are like a box of technologies exhibiting new processes including blueprint, daisy wheel, dot-matrix, line printing, heat transfer, inkjet, electrophotography, laser, solid ink, etc. Catering to the vast industry of printing such as book, magazines, packaging material, and clothes, precisely engineered printing machines are widely demanded in the market. Some of the traditional printing machines are offset printing press and gravure printing machine. While present day printing machines are digital and 3D printing machines. These are basically known for quick printing on thousand of pages, robust construction, low energy consumption and durable functioning life.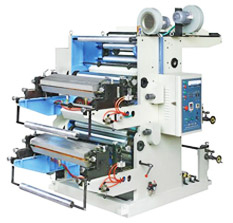 Below mentioned are some of the widely commercially available printing machines:
Color printers: For color printing of photographs
Flexo graphic machines: Printing for packaging, newspapers, and labels
Laser Printer: Transactional printing (bills and bank documents)
Pad printers: Printing operation for complex 3-dimensional surfaces
Roto Printing Machine: Utilized for magazine printing and packaging
Screen Printer: Starting from printing of T-shirts to floor tiles.
Printing machines are widely used in sectors like packaging, security printing, government press, publishing houses, research and development, newspapers/magazines, electronic publishing, digital printing, quality control, and many more.

A large number of firms offering various modern printing machines like:
Non Woven Bag Printing Machine
Mini Offset Printing Machines
Poly Offset Printing Machines
Sheetfed Offset Printing Machines
Web Offset Printing Machines
Prepress / Postpress Equipment
All these machines are specially designed to print on eco-friendly material. As traditional printing harms the environment by print out papers causing more cutting down of trees, many machine designs and technologies are developed to save the ecology under the methodology of digital green printing. Contact us to buy or for more information on any types of printing machinery and equipments.