Home > Machinery > Polishing Machines
Polishing Machines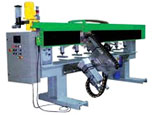 Are you searching for a single-window solution for all your polishing needs? If yes, then the easiest and reliable way is to take the services of dependable polishing machines manufacturer available online. Just search the Internet and you will be presented with plethora of results, showing the manufacturers of polishing machines or buffing machines that are used for polishing the soft metals such as brass, and copper. In these equipment, the two 'mops' spin together at elevated speeds on the starting of machine. Some of the widely used machines are car polishing machine, floor polishing machine, jewelry polishing machine, marble polishing machine, stone polishing machine and wheel polishing machine.

In simple words, polishing is defined as a multistage process that is used for increasing the looks of handrails, motorbikes, cars, kitchenware and various artifacts replica. Not just this, polishing machinery are also helpful in providing ideal conditions for rust resistance, which helps in enhancing the longevity of the machine.
Belt Polishing Machines: These have wet and dry surface (single belt type), Emery cloth belt, and an AC motor.
Deburring & Polishing Machines: These are ideal for surface treatment processes in assorted industries.
Double Disc Polishing Machines: These machinery are helpful in the preparation of metallography samples at swift speeds. These have 2 different motor, with adjustable speeds via a rotary handle.
Hand Polishing Machines: The machinery is ideal for polishing natural stones like marbles, granites etc.
Jewelery Polishing Machines: It is used for giving fine finishing and shine to various jewelery items.
Single Disc Polishing Machines: Compactly designed, it has independent driving motor. Also, it is used in low maintenance polishing arrangements.
Stone Polishing Machines: The machinery is used for polishing the rocks. Its applications include craft creations/decoration, mosaic art, jewelery design, and sculpture art.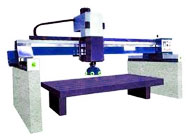 Types of Stone Polishing Machines:
The Rotary Tumbler: It has a barrel-shaped container which is used for holding the water, abrasive grit, & rough stones that require polishing.
The Vibratory Tumbler: It has a bowl which is used to polish the stones by shaking the materials rather than rolling them over one another.