When it comes to manufacturing large hollow plastic parts, nothing beats the process of rotomolding. Compared to other molding or casting processes like injection or blow molding, rotomolding is exceptionally cost efficient and the products produced are also of better quality.
| | |
| --- | --- |
| | Equipment and Tooling |
| | |
| --- | --- |
| | Mould Products |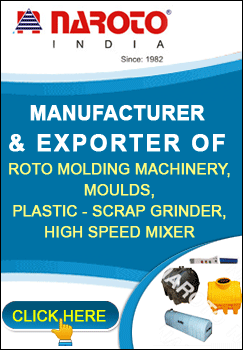 Home > Machinery > Plywood Machinery
Plywood Machinery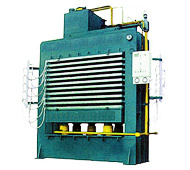 Woodworking industry, a sector feeding the needs of varied industries, has been utilizing a number of materials like plywood, laminates, veneers, lacquers, fittings, glues, and varied other accessories. Be it cutting, shaping, milling, drilling or surfacing of varied types of wood, every process is done using high tech plywood machines and equipment to ensure precision and excellent finishing. The range of machineries utilized in this sector includes cold press, hot press, peeling lathe, pneumatic clipper, edge trimming saw, veneer mending machine, veneer turnover machine, veneer joint machine, veneer splicing machine, glue spreader, dryer, etc.

Every single machine and equipment helps in the fabrication, treatment as well as designing of plywood. With high efficiency and performance, these machines ensure the reduction of time, labor as well as money invested.

Some of the Important Plywood Machinery are Listed Below:
Plywood Treatment Impregnation Plant: Plywood Treatment Impregnation Plant is widely employed to treat plywood using varied chemicals to prevent the natural decaying process. These plants are equipped with a vacuum pump, a pressure cylinder, a pump for inserting the preservative solution in the pressure vessel as well as some measuring instruments.
Veneer Peeling Lathe Machines: Veneer peeling lathe machines, also reckoned as log peeling machines, are ideally designed for peeling surface as well as core veneer widely utilized in the plywood sector. These types of machines are available in varied configurations and specifications to meet the precise veneer production needs of diverse plywood manufacturers. The main components of the machines are powered by a high tech hydraulic system and controlled by PLC control panel.
Belt Sander Machine: Belt sander machines are chiefly employed during the initial stages of sanding process including sanding of the plywood, doors, block boards and so on. In addition to finishing, they are also widely used for eradicating finishes and varnishes from wood. These machines are developed using an iron sanding table, a dust collection unit, and a motor along with sanding belt.
Some Other essential Plywood Machinery:
Auto Finger Shaping Machines
Cold Press
D.D. Saw Machines
Double Side Planners
Edge Trimming Saws
Hot Press
Knife Grinders
Plywood Machinery Guillotine Jointers
Pneumatic Clippers
Rotary Dryers
Seasoning Chambers
Thickness Planners
To buy or for more information on any types of plywood machinery send your query or contact us.