Home > Machinery > Pharmaceutical Machinery
Pharmaceutical Machinery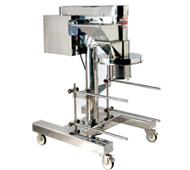 Every process from crushing of raw materials, tablet coating, ointment sealing, labeling as well as packaging of medicines cannot be performed swiftly and efficiently with high technology pharmaceutical machinery. A wide number of functions and processes are done in the health-care sector using these machines. Manufacturers and suppliers have been offering advanced technology machines in standard and custom built sizes to fulfill the demands of pharmaceutical industry.

Here is the list of some widely used Pharmaceutical Machinery:
Extraction Machine: An extraction machine is simply designed machine ideal to operate over numerous products. These functionally efficient machines are very compact available the automatically controlled features to control extraction temperature.
High Shear Mixers: Versatile and practical range of high shear mixers makes them perfect for health-care sector. These types of machines are designed in varied specifications to combine varied types of powder uniformly. They come with multi-safety interlock system and varied other high end equipment that ensures minimum contamination hazards.
Fluid Bed Dryers: Fluid bed dryers are ideally developed for crushing the feeding materials into varied specified sizes. These machines are designed precisely to be fitted with various other devices such as super mixer, cone mill, as well as the lifting device. Besides using in healthcare sector, these fluid bed dryers are also widely used in varied sectors such as food, dairy, etc.
Coating Machines: Coating machines are used in varied pharmaceutical coating processes such as tablet film coating, control released coating, sugar coating, etc. These machines are developed with a multi-safety interlocking system, a touch screen interface, dampers and other features in sturdy design to ensure high versatility.
Some other Important Pharmaceutical Machinery:
Ampoules & Vials Washing Machines
Blister Packaging Machinery
Cap Plugging Machine
Capsule Filling Machinery
Crimping & Batch Coding Machine
High Speed Mixers
Labeling Machinery
Ointment/Cream Filling Machinery
Pharmaceutical Machinery Crystallizer
Planetary Mixers
Powder Filling Machinery
Storage Tanks
Strip Packing Machinery
Tube Sealing Machines (Manual, Semi-automatic & Automatic)
Twin Shaft Dispersers
We supply all types of pharmaceutical machinery and equipments; contact us to buy or for more information on any kinds of pharmaceutical machinery and equipments.