Home > Machinery > Paper Converting Machines
Paper Converting Machines

What is Paper Converting?

The paper products that we use in our day to day work are produced using hi-tech paper converting technique/method. Paper converting is a process through which various types of paper products can be developed using a piece of paper. Different types of paper bags, envelopes, containers, boxes, etc. are manufactured from paper converting machines. In the present era, there are numerous small and large scale industries engaged in the business of paper converting. Moreover, with the latest technological advancements and availability of modern resources, sophisticated paper converting machines are fabricated by the manufacturers in India. Paper converting machines are also known as paper products manufacturing machines as they are used to manufacture different types of paper products. Also, there are number of reliable suppliers offering paper converting machines in various models that facilitate following operations:
Treating
Sheeting
Slitting
Punching
Grooving
Folding.
Paper Converting / Paper Products Manufacturing Machinery:

First paper making machine was invented in the year 1798 by Louis Robert. Ever since the invention, paper machinery has undergone little changes. Among the modern paper making machines, most are based on the principle of Fourdrinier Machine. It has a specially woven plastic fabric mesh conveyor belt in the forming section. In this section fiber slurry is drained so as to create a continuous paper web. Once the paper web is formed, it passes through a press section that squeezes out the excess water and pass it on to the drying section.

Usually, there are four sections in a paper making machine. Whereas, in some these sections are integrated into 1 machine and in others the sections are separated into few smaller machines. Due to high humidity, these machines face the challenge of easy rusting and paper pulp emits problematic malodorous emissions. Different types of paper converting machines used for producing specific paper products are as mentioned below: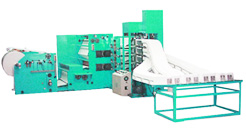 Paper Cone Winding Machine
Paper Cone Making Machines
Paper Cone Finishing Machine
Paper Bag Making Machine
Paper Slitting Machines
Paper Napkin Making Machine
Paper Machine Dryer
Paper Cutting Knives
Paper Cup Making Machine
Toilet Roll Making Machine
Spiral Paper Tube
Pulp Making Equipment
Contact us for buying or for any query regarding paper converting machinery, paper products manufacturing machinery and equipments.