Home > Machinery > Mosaic Tiles Machinery
Mosaic Tile Making Machinery

Considering the demand for Mosaic Tiles in beautifying both interior and outdoor spaces, the Mosaic Tile making process is slowly gaining ground as a very lucrative business venture. Thus, manufacturers engaged in this business along with many construction companies are always looking for advanced and operationally-efficient Mosaic Tiles machinery that can handle high-volume production of fine quality Mosaic Tiles with efficiency and ease.

Generally, Mosaic Tiles machinery are single plate engineered using heavy duty steel. The durable steel body of these machines are fitted with latest design features, including auto pressure control and hi-tech control panel. Also, being one touch operating system, these machines are extremely user-friendly and calls for very low maintenance requirement.

Key Features of Mosaic Tiles Machinery: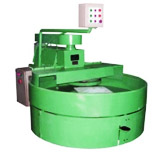 Single plate fabricated
Heavy duty and sturdy steel body
One touch operating system
Auto pressure control
Top mounted power pack
Hi-tech control panel
Global standard accessories
Imported cylinder seals
Today, Mosaic Tiles Machinery complements a wide variety of construction requirements with its functional flexibility and user-focused features. High performance, end-product design accuracy, operational-friendliness, proven control features, long service life and excellent durability are certain factors based on which these machines are designed nowadays. Made using quality raw materials/basic components and tested on countless quality parameters complying with international standards and norms, genuine quality Mosaic Tiles Machinery sourced from certified experts ensure your tile manufacturing processes are always up and running with these machines operating at peak levels with zero chances of unscheduled breakdowns, even during large-scale productions.