Home > Machinery > Lathe Machinery
Lathe Machinery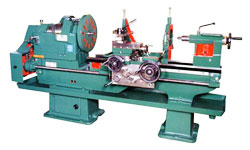 Lathe machine tool is the most unconventional machinery used in the manufacturing industry for varied applications like cutting, knurling, sanding, deforming, and others. This high quality Lathe Machine features both manual and automatic operating method. The machine is used for cutting and shaping a comprehensive array of hard material, metal article, and various other wood materials. It efficiently removes material from the work piece and gives it a unique shape. Cutting tools fitted in the Lathe Machinery has sharp blades that help to develop a various shapes and forms as per the requirement of the customers.

Two most common types of lathe are Small Lathe and Large Lathe. Equipped with wheels and bench mounted designs, small lathes are portable and can be easily transported as per the choice. Floor mounted design of Large Lathe makes it difficult for transportation. These larger lathe are reckoned for distinctive applications, some which are mentioned below:

Wood Lathes: This type of Lathe is the most common type of Lathe featuring simple design with a bed, headstock, tailstock and rest. It is used for turning wood.

Engine Lathes: It comes in comprehensive sizes and used for cutting various types of material. Vital components fitted in this widely used Lathe include bed, headstock, and tail stock. These machines are easier to use.

Tool Room Lathe: This lathe is used for high precision work and commonly used in tool and die shops. It is a medium sized lathe used in tool and die shops.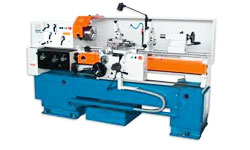 Turret Lathe: This type of lathe is used in the production machine shops to conduct variety of working on single work piece.

CNC Lathe: The numerically controlled lathe machine is used in production machining works. These machines are used at cutting curved contours and that too without any uniquely shaped tools.

Special Purpose Lathes: It is used in heavy-duty production of identical parts and performing special functions by standard lathes. This Special Purpose Lathe is widely demanded in manufacturing industry.

We manufacture, supply and export all types of lathes, lathe machinery. Contact us to buy or for more information on lathe machinery.