Home > Machinery > Label and Sticker Making Machinery
Label & Sticker Making Machinery

Label and sticker making machines are significant instrument in the workplace. Earlier label makers used a plastic strip to print one line of raised print. With the advancement of technology, these days label machines are useful for varied functions, more than one color, and even add graphics. Label making machinery can create various types of labels, suitable for three-dimensional objects. In many workplace label making machines are used for mass mailings and for individual posts.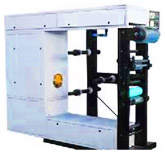 Functions of Digital Label & Sticker Printing:

With technological advancement, the digital label maker and sticker maker has taken the place of manual label printing. In the digital print a display screen is attached that allows the user to key in a word or sentence for a label. The raw materials are plastic rolls, ink and paper labels placed on a roll.

Label printing and sticker printing is always a very useful technology, both in traditional and digital types. It is used in varied applications, principally for three parts: a printer or print engine, an applicator, a know-how to manage label and ribbons, cited to as media.

Advantages of Digital Label & Sticker Printer Over Traditional Ones:

The traditional label printer is complex and takes lots of time to create relevant printing plates. Whereas in digital printing time taken is minimum and cost effective.
Digital printing is of high resolution, colorful and make the label more attractive. It can print 230 line whereas traditional label printing machine can only print 133 line screen.
Digital printing helps to keep a better cash flow because you don't need to create plates for printing, so it is cost effective.
Digital label printing is applied in varied work environments from manufacturing to retail. The laminated labels are create to withstand moisture, temperature difference, UV rays, abrasion etc.
We manufacture, supply and export all kinds of label making machinery, sticker making machinery and equipments from India. Contact us to buy or for information on any types of label making machines or sticker making machines.