Home > Machinery > Jute Processing Machines
Jute Processing Machines

Jute is also called The Golden Fiber, and it is a long, shiny, soft plant fiber that can be spun into threads. It is one of the cheapest natural fibers of all, and can be used in various applications. Also, Jute is known for its bio-degradable properties as well as great strength. It is widely used for making agricultural textiles, ropes, bags, packaging materials, etc. Moreover, Jute finds its application in the food and medicine industries as well. Jute is rapidly emerging as a plastic substitute in many industries, owing to its biodegradable nature, cheap cost as well as reusability.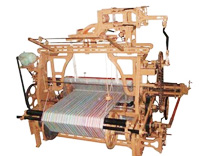 In the earlier times, jute processing was done by hand as it was more of a part of Cottage Industry. Over the period of time, the demand of jute has increased enormously, and there are many large scale industries that have taken up jute processing as a business. With the rising jute processing industry, sophisticated and hi-tech machines as well as equipment have been introduced in the market. There are various steps involved in the jute processing. Some of them are still done manually, whereas other stages are carried out by using machines. Processing of jute involves following stages:
Softening and Lubrication
Conditioning/ Piling
Carding
Drawing & Doubling
Spinning
Winding
Beaming or Dressing
Weaving
Damping
Calendaring
Hessian cloth
Lapping
Sacking
Sewing
Bundling
Packaging
In India, there are many well established manufacturers and suppliers involved in fabricating jute processing machines in different configurations. Some of the machines are as follows:
Jute Softening Plant
Mill Pressing Roller
Drying Machine
Drawing Machine
Weaving Machine
These machines are widely used owing to their excellent attributes like power efficiency, easy operations, high speed, low maintenance cost, convenient to install, and optimum performance.