Home > Machinery > Hosiery Machinery
Hosiery Machinery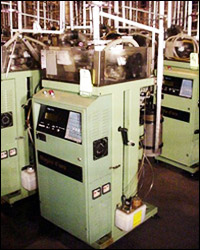 In a common term, Hosiery refers to the garments that cover low-section of human body like legs and feet. Socks are the perfect example for this, knitted / manufactured by a hosier using natural and synthetic yarns both. These inputs are mostly selected on the basis of color, weight, style, and opacity, etc. And the yarn opacity is referred to as denier, which is used to measure the fineness of yarn, and is commonly mentioned on the packaging. In class of Hosiery Machinery, the circular knitting machines are very common, used in the hosiery industry. These are utilized to manufacture approximately 95 percent of knitted garments and fabrics, with features of round-the-clock loop formation and absence of immense alternating loads.

With convenient and flexible operations, the Hosiery Machinery cater to different requirements of various woven fabrics and ensure cost-effectiveness along with quality, and thereby total customer satisfaction, too. Incorporated with intelligent monitoring system, the machines are safe and reliable. In addition, many models are available for your choice meeting the needs of all sort of clients.

Such hosiery technologies cover various internal specializations in order to produce several types of finished hosiery products. For instance, women's socks are commonly made on single-cylinder / single-knit machinery with two, four, or eight loop formation. Some of the essential working elements comprise: latch needles, periphery needle cylinder, housed in grooves and sinkers set etc. Fixed cams act on the base of the sinkers and needles to impart the motion of the needles & sinkers along the grooves of rotating cylinder. Formation of the loops is achieved by the interaction of the needles and sinkers with yarns. And it is fed to the needles from bobbins, done by a yarn guide.

The socks are drawn with the help of inside needle cylinder through a current of air from a special purpose fan. Toes are often seamed on especial sewing machines (linking or serging type). Also. the newest technology circular Hosiery Machines process the socks with a closed toe.