Home > Machinery > Grinder
Grinder Machines

Grinders are the widely used machines that are employed for grinding purpose in varied industrial segments. A typical Grinding Machine is fabricated with a rotating abrasive wheel that is made of silicon carbide or aluminium oxide. This abrasive wheel helps in cutting away small piece from the work piece, resulting in the change of its shape and dimensions. Grinding process is considered to be the most precise and reliable machine processes, and hence it is used in almost all the industries.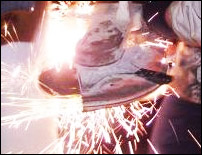 See below, some of the well engineered Grinding Machines that find application in number of industries:
Belt Grinder
Cylindrical Grinder
Bench Grinder
Surface Grinder
Jig Grinder
Tool and Cutter Grinder
Gear Grinder.
You can find many manufacturers, suppliers and exporters in India, engaged in offering quality tested grinder machines at best market rate.