Home > Machinery > Glass Production Machines
Glass Making Machines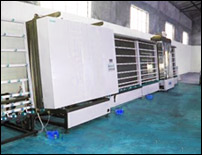 Glass production process involved three stages, namely- Batch House, the Hot End, and Cold End. In this process, the raw house manages raw material and the hot glass production machine end handles all the manufacturing processes. Furnace, annealing ovens and forming machines are used for undertaking glass production. At the cold end stage, quality inspection as well as packaging of the products is done. Various models of glass making machines are available in the Indian market. Further, number of quality conscious manufacturers, exporters and suppliers in India fabricate glass producing machines as per client specifications.

For the process of forming, it is required to have wide range of advance set of machinery called Forming Machines. These kinds of machines are empowered by compressed air, and perfect coordination of parts takes place that results in the formation of container. Individual Section or IS machine is the most commonly used forming machine that finds application in the glass processing units across the world. In a typical IS Machine, there are around 6 to 20 sections & each section is developed with impeccable technology so as to produce 1-4 bottles simultaneously. These sections are in a row, and the gobs are fed into each section through a moving chute i.e. called gob distributor. The machine section's operation is well synchronized with the operation of glass-feeder, by generating a feeder index signal.

The machine's production rate may vary depending on the size and shape of the container. The production rate can be as much as 700 containers/ minute.

Below mentioned are some of the other most frequently glass production machines:
Glass Double Edging Machines
Glass Blowing Lathe Machines
Glass Cutting Machines
Glass Drill Machines
Glass Grinding Machines
Glass Helices
Glass Polishing Machines
Glass Production Machines Glass Drilling Machines
Glass Sand Blasting Machines
Glass Shape Machines
Glass Tube Cracking-off Machines
Glass Tube Sanders
Glass Washing Machines
Shape Edging Machines
Spindle Edge Grinding Machines
Spindle Beveling Machines
Straight Line Edging Machines
Strain Viewer
We produce, supply and export of all types of glass making machines, glass production machinery from India.