Home > Machinery > Footwear Making Machinery
Footwear Making Machine

Traditional shoemakers used to make shoes with hand. Later in the modern times, premium range of Footwear Making Machines was developed. Ultra-modern software along with advance shoe making machines make the shoe designing job a lot easier for man. These hi-tech footwear making machines give the advantage of producing defect free products in bulk quantities, and in lesser time. Nowadays, different types/ styles of shoes are designed with the assistance of computer aided software.

New techniques and software help the manufacturers to come up with beautiful designs. Also, different stages of shoe making process including pattern grading to creating logos, can be carried out easily with less effort. Moreover, varied textures and patterns can be incorporated in the product design with the help of a shoe making machines. If you need to procure footwear manufacturing machine, there are number of reliable manufacturers and suppliers in India. Mostly molds, dies and presses are used in the footwear or shoe making process. Following are the machines that are used for undertaking typical footwear making process: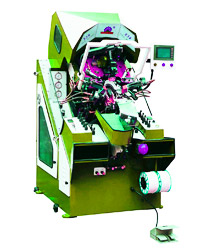 Leather Cutting Machines
It is useful in cutting the uppers from leather. Advance leather cutting machine is generally automated as well as aided by computerized cutting system that uses graphic data output of CAD systems as input.

Backpart Molder
Backpart Molder plays a role in molding the thermoplastic counter into shoes upper. This is a very important stage, and has to be carried out with precision in order to maintain high quality of the shoe.

Toe Laster
The machine pulls the lining & leather over the front.

Side Laster
Side Laster is used for pulling the lining & leather over the heed and side.

Sole Press
It employs air to fill the chambers, resulting in bonding of the sole to the leather upper.

Sole Stitcher
Once the sole is bonded, the extra material is removed and sole is stitched to the upper.

We manufacture, supply and export all types of shoe making machines and footwear making machines from India. Feel free to send your query regarding any information on footwear making machinery.