Home > Machinery > Extraction Plants
Solvent Extraction Plants

The advent of modern technology has brought upfront many inventions, one amongst them is Solvent Extraction Plant, which is used in recovering oil from oil bearing material, keeping the temperature very low in vacuum in order to produce refined oil. Highly preferable than mechanical pressing, which oppositely works in high temperature and high pressure, resulting in oxidization of oil. New developments of the Expander Systems coupled with squeezomatic attachment make sure the direct extraction of quality oil content such as: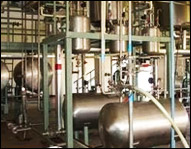 Extraction Plants
Rapeseed
Rice Bran
Sunflower
Soyabean produces unmatched crude oil, high in quality, eliminating the pre-pressing functions of traditional expellers, driven by outdated technology.

The process of Solvent Extraction consists:
Distillation unit
Extraction unit
Meal Finishing Section
Meal Toasting
Preparatory Section
Recuperation unit
Description about Solvent Extraction Process: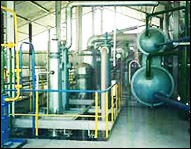 It is through the support of rotary plug/valve conveyor, the prepared substance is collected in the feed hopper out of the Preparatory division. An effective vapor seal is developed together by the material in the feed hopper and the rotary plug/valve. In addition, the rotary valve backs in the regulation of feed. The hopper in Extraction Plants has special switches for indicating low and high level.

The Extractor structure is like a long horizontal vessel, rectangular in cross section. There is an articulated band conveyor inside the extractor, which brings out the material from hopper and transfers it, stretched at a purposely high speed from the feed to discharge end. After that, the band conveyor which is inside the extractor moves perfectly over rail and rides on constructed sprockets at both end. The speed of the band conveyor can be adjusted manually as per requirement. There is an adjustable damper, which allows the regulation of height of bed of material on the conveyor.