Home > Machinery > Earth Moving Machinery
Earth Moving Machinery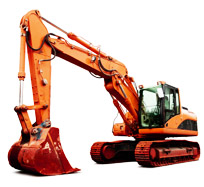 Earth Moving Machinery falls in the category of extremely heavy duty machines that are used at construction sites, mines, ores, etc. for excavation, demolition and transportation purpose. These types of machines appear like a single big unit or compound machinery fabricated from assembling 4 to 5 machines together. Most of the earth moving equipment are engineered hydraulically and fabricated from 5 basic systems namely traction, implement, control, power train & structure.

Mentioned below are some of the most commonly used earthmoving machinery:

Road Roller: Road Rollers are the most commonly used heavy machines. These are utilized for compacting soil, concrete, gravel, asphalt, etc. during the construction of roads. Road roller compresses & pitches the surface as it rolls by.

Backhoe: Backhoes are useful for digging purpose. It is excavating equipment that is fabricated with precision and a digging bucket is attached at the end of backhoe.

Hydraulic Hammer: Hydraulic hammers help in demolishing concrete structures or rocks.

Excavator Bucket: Excavator Buckets are generally used for digging and scooping waste. This machine consist a bucket tool that is attached to a heavy duty vehicle just like a hook extension or arm.

Pile Driver: Pile driver drives piles into the soil at the construction sites. These are applicable while laying foundation, in order to make it stronger and safer.

Grapple: A hook or claw that is normally attached to heavy vehicles or machinery for grabbing big objects is called Grapple.


Cranes: Cranes are the most commonly used earth moving equipment. It is used for lifting or moving construction waste, debris, soil, etc.

Drilling Machine: This machine is used for drilling wells or holes in Earth. Drilling machine mostly finds application in drilling oil or water wells.

Bulldozer: Bulldozers are heavy duty equipments that help in pushing construction materials such as soil, rubble, sand, etc.

We manufacture, supply and export all kinds of earth moving machinery and equipments.