Home > Machinery > Construction Machinery
Construction Machinery & Equipments

The construction industry across the world is emerging as one of the most booming segments in modern times. The building sector is witnessing exuberant growth in number of economically strong nations around the globe. The development rate in this segment has been exponential over the past decades. This further broadens the horizons of various industries such as steel, cement, construction material, etc. that directly support construction sector. Also, the construction machine manufacturing industries have grown bigger and conquered wide market segments across India as well as abroad.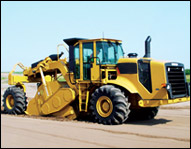 In order to undertake any construction process be it for roads, buildings, bridges, dams, etc., it requires precision range of Construction Machinery. Various types of construction equipments and machines are widely used to carry out number of tasks such as digging, excavating, drilling, transporting, and others. The main motive of a construction machine is to make the job easier, safer, faster and reliable. There is large variety of machines that are used in construction; it can be a simple electrical driller or even he bulldozers or cranes.

In the domain of construction, there are many challenges that work as obstacles in completing a task. Numerous factors are to be kept in mind while undertaking construction work. A building/ road/ bridge should be strong enough to be able to stand still even in the crisis situations like an earthquake, fire, floods, explosions, etc. In order to overcome these rising challenges, innovative approaches and latest technological advancements play a vital role. Every now and then, a new product is introduced in the construction market with an aim to ensure safer world as well as to minimize the human effort.

Innumerable manufacturers, suppliers and exporters are offering a comprehensive range of construction machines at the most competitive rate. Following are the commonly used machines:
Aerial Work Platform / Lift Table
Air-track
Asphalt Paver
Backhoe
Bulldozer
Cherry Picker
Excavator
Tunnel Boring Machine
Track Harvester
Harvester
Grader
Front Shovel
Fresno Scraper
Forklift
Feller Bencher
Dump Truck
Drilling Machine
Dragline Excavator
Cure Rig
Crane
Cold Planer
Skidder
Roadheader
Pneumatic Tire Compactor
Pipe Internal Lining Machine
Pile Driver
Cylinder Finishers
Concrete Mixer
Bar Bending Machine
Block Making Machine
Concrete Vibrator
Earth Rammers
Exploration Machinery
Extruded Brick Construction Machinery
Mobile Batching Plant
Suspended Scaffold
Tower Hoist
Weight Batcher
Welding Transformers, etc.
We manufacture, supply and export all kinds of construction machinery and equipments from India.